Home » Family
Tis the Season
Submitted by Hannah on December 13, 2009 – 8:26 pm
Oooh, you look festive!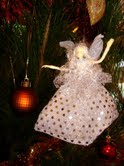 For many, the celebration of Christmas is strongly founded in religious significance. Though my parents were raised in religious families the beliefs were not passed on to me in such a defined way. I have grown up with many ideas of creation, evolution, God and Universe, faith and belief. I am continually cultivating a spiritual life without defined borders, and so Christmas for my family is more of a celebration of the things we all believe in- the heartwarming glow of feasting with family, sharing time and space and lovingly prepared food.
Over the last few years we have established a sort of tradition for how we do Christmas- and it all takes place at my Mum's house. My mother is an incredible woman, and it is no surprise that we all live with or nearby her. We gravitate to her as an ever present life compass and her home will always feel like my home. We like to festoon an aromatic tree with a plethora of decorations, many homemade, and dress up the house a little bit with tinsel and festive flair. My Mama fills the house with the enticing aromas of baking in the days leading up to Christmas, gifts of homemade shortbread stars and moons dipped in chocolate and studded with edible silver balls; the all-time favourite chocolate chip cookies; the highly addictive Christmas mince pies. Two Christmas cakes are wrapped up in the pantry for the month of December- one for the family to share and one for my oldest sister to take home. On Christmas Day the family gathers for a brunch of pancakes with tart organic yoghurt, fresh raspberries from our neighbor, sliced banana and copious drizzles of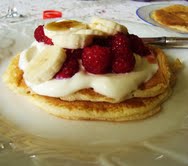 maple syrup. We indulge in freshly ground coffee and some bubbly as we chatter and laugh our way over the shared food and connection, with at least one person inevitably crying with laughter at some point. The last few years have seen an increase in the amount of gluten-free goods that stud the festive menu which means happier bellies and bodies all around.
This year we are trying something a little different. We are abandoning the present-giving aspect of the day which would normally follow our brunch. While we all would love to buy buy buy for the people that we love, reality means that most of us cannot afford to do so. We tossed around ideas of a Secret Santa situation, or limiting the expense of gifts to a certain amount. We certainly could all make homemade presents for one another, but we decided after much debate that we might try just having no presents at all. In fact, we all can give freely to one another at any time of year to honour and celebrate, however the Christmas Day present-fest was becoming bigger and bigger each season and we just don't need that much stuff, or that much pressure. We may still keep the gifting tradition alive for the youngest family members, and I am interested in seeing how the day feels without the gifts. It will create a gap that we can choose to fill with a new tradition.
Usually after this we laze our way through the remaining day- swims at beach or river if it is hot, napping off the indulgence. Some of us gather again for a roast chicken dinner or disperse to connect with friends in the community, partying late into the night. Every Christmas I am reminded of how lucky I am to have been born into a family like mine. Yes, we are all different beings and we do have conflicts and deeply ingrained habitual responses to one another in our particular roles in the family unit, but when it comes down to it, these people also make me happy. They fill me with wonder. They help dust me off when I fall down and I try to do the same for them. I feel supported and appreciated by these people, and so I look forward to the hilarity and mess of another family Christmas.
GD Star Rating
loading...
GD Star Rating
loading...
Tags: Christmas, good news, positive news