Home » Events
Auckland's 10th Annual Busker's Festival Set to be a Ripper
Submitted by Charlotte on December 23, 2009 – 9:41 am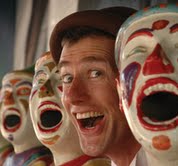 The Auckland International Buskers Festival is one event that really needs no introduction! Expect to be stopped in your tracks when walking the streets of central Auckland this Anniversary Weekend, because you will more than likely come across an array of performers entertaining the crowds in the tenth annual Auckland International Buskers Festival.
Acrobats, jugglers, magicians, stuntmen, comedians and many others will come together to create an exciting and lively atmosphere in the City entertaining and delighting people.
For the 10th year running, the Auckland International Buskers Festival will immerse the CBD in an awe-inspiring range of entertainment over Auckland Anniversary Weekend from the 29th January to the 1st February 2010.
The Festival is comprised of eight sites spread throughout the Auckland City the BIG little City. Sites include three Viaduct Harbour sites, Vulcan Lane, Downtown/Britomart, Princes Wharf, and the Seafood Festival/Halsey Street Wharf.
The night shows have been part of the Festival since 2003 and are a great way to socialise with friends whilst enjoying good outdoor dining in a fun and comical environment.
"This year's Festival has the biggest international line up in its ten year history" says Pam Glaser, the Festival's manager.
Acts for the 2010 Festival include:
o       Nick Nickolas (UK/New Zealand)
o       Debbie Robinson (UK/New Zealand)
o       Gary Knights (UK/New Zealand)
o       Eric Cash (USA)
o       Liqueur Flambe (Australia)
o       MANX (Australia)
o       Pat-Trick (Ireland)
o       Fraser Hooper (UK)
o       Dusty Boots (Australia)
o       Ben Zuddhist (UK)
o       The Great Dave (UK)
o       Anthony Livingspace (Spain)
o       Shep Huntly (Australia)
So, zip on your best clapping hands, firm up your stamping boots and dive down the back of the couch for a handful of loose change and we'll see you at the live street performances in Auckland City over Anniversary Weekend.
For more information on the Auckland International Buskers Festival
www.aucklandbuskersfestival.co.nz
GD Star Rating
loading...
GD Star Rating
loading...
Tags: Music, performance