Home » Uncategorized
Green Love: Happyzine's Top Seven Recommended Gifts of Love
Feeling the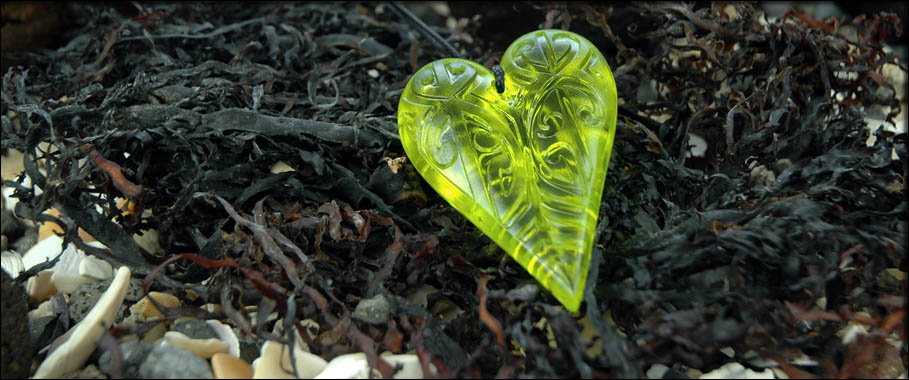 love?  Express it this Valentine's Day with a lush gift.  Hannah Campbell has searched high, sideways and low for the very best in unique and truly sustainably produced Valentine's Day offerings.  Relax, we've got Love Day covered, all you need to do is click and order your New Zealand made gift.  Celebrate your loved ones (whilst honouring the planet) this February 14th.

Trees Please!
Perhaps it is time to start thinking 'gifts that keep on giving'.  How about a real live tree? Especially a New Zealand native like the Pohutukawa, whose bursts of red passionate blossom will re-ignite your own spark every summer. Select carefully people, with regards to the location of your beloved (here in East Takaka the blooms do not appear without much tending throughout winter).  This variety prefers sunnier, warmer spots down towards the ocean. Much like me really. I think being able to plant something tangible to represent the love you feel for your partner could really root the relationship, while also bringing the joys of nectar-loving Bellbirds and Tui to your garden to further accentuate the flight of your love!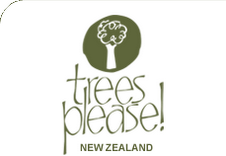 The trees from Trees Please! are grown in leading Auckland nurseries and sent out in sturdy planter boxes made from untreated pine in which the young tree can remain for weeks or even months if watered and given adequate light. Because they care for the environment not only in the provision of a growing gift, Trees Please! use recycled, recyclable or sustainably sourced materials, like the reusable planter box. I was impressed at the swift delivery, the stylish yet functional packaging and the healthy plant I uncovered inside, which was ready to be transplanted and tended like a new love. It is not hard to adore an idea like this one, as the people behind the scenes are committed to caring for the  environment  – they are a member of the Sustainable Business Network, endorsed Kiwi Green Certified and they provide facilities so you may even offset your carbon footprint through Kiwi Green Regeneration.
Plant Trees for Life – Whakato rakau kia puta te ora
One Large Tree costs $59.50 NZD, visit http://www.nztreesplease.co.nz
The Sprout Bag
I think it is safe to assume we all realise the slow creep of reusable cloth bags into the wider consciousness of our fair nation is a beautiful thing. Perhaps your lover is an avid purchaser of locally grown organic produce at the Farmer's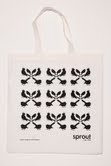 Market in your suburb/town/city. Or maybe he or she prefers to carry their second-hand books home in something a little more stylish. Whether it is groceries or a romantic Valentine's picnic of fresh goat cheese, homemade crusty bread and home-grown tomatoes with drizzles of organic olive oil and a bottle of wine, the Sprout Bag Project from Ooid Design have a bag to suit your style. It is also large enough to carry your sketch book and pencil case to your art class; or your togs, towel and sunscreen plus a good book for an afternoon at the river;  or your reusable jars and paper bags to the local organic shop to refill your bulk items, plus a delicious treat for your Valentine,

before you cook them a romantic dinner as well (perhaps not using that combination of ingredients)!  So far, the Sprout Bag Project has featured 37 different bag designs printed on the 100% unbleached organic cotton, so you can be unique while you care for the environment. My particular bag, titled Native Song, features a repeating motif of three native birds in black (one of which is singing a love song loud and clear) created by Dunedin-born designer Griff Humphreys. I am proud to be showcasing this young designer's work, and am sure I will come up with something romantic to carry in it for my Valentine's Day activities.
At just $13 a pop, visit http://www.ooid.co.nz/sproutbagproject.php for more design options.
Recycled Resin Jewellery
When it comes to giving jewellery as a romantic gift, there exists out there a plethora of choice – delicate, funky, bold,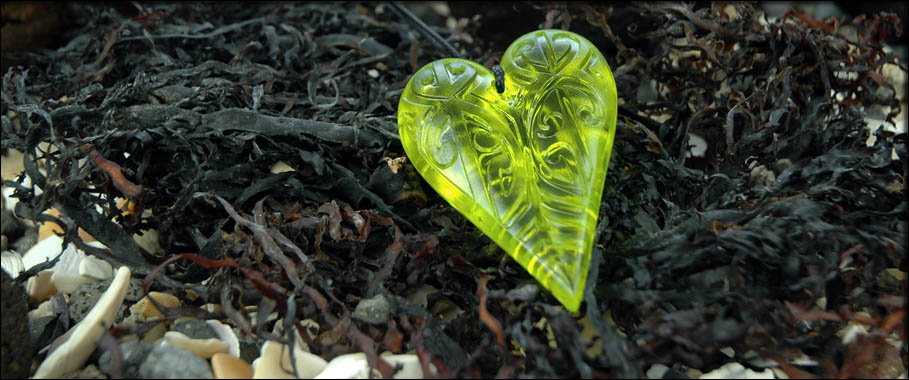 expensive, classic… It is easy to become overwhelmed by the options, subdued by the prices, or disillusioned by less than generous sourcing practices. So when I discovered these recycled resin hearts, I felt heartened. They are simple, colourful, and dynamic and are made with sustainability in mind. The incorporation of the Koru and its national significance meets well with the aroha symbolised in the loving gift, so your other half may hold you close to their own hearts as they go about their lives. I was interested to find out that the recycled material itself comes from waste or scrap from other molded products (display stands, covers, plastic components etc) which are then collected, chipped and screened, saving it all from going into our landfills. As with most recycled materials the process of creating something new carries with it slight variations, which means of course that your piece may be ever so slightly uniquely

yours. These 'Mementos from the South Pacific' are made in Aotearoa and the designs are intended to "evoke a sense of place, a timeless spirit, and a connection to the vibrant land of the South Pacific" according to Anna, the artist from Mamarua who features her work on Aotearoa.co.nz which is where you will find her pieces.
Priced at $33.75 NZD, check out http://www.aotearoa.co.nz/mamarua for the range of colours so that your Valentine may wear your heart around their neck. It is a doubly sweet deal, as a free Whittaker's chocolate is included with all orders!
Ginga Squid Neon Watermelon Jewellery Arm Warmers
I must confess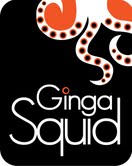 to falling head over heels with these as soon as I saw them – I am a huge fan of arm warmers (or sleeves,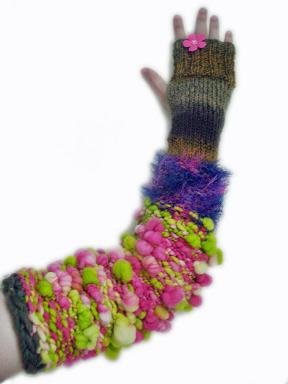 as I call them) as accessory and functional warming attire. These are colourful, textural, bejeweled and look deliciously soft and snugly, which is exactly what your partner should be wearing so you cannot keep your hands off he or she.   They are loud and exciting and not for the faint of heart – perfect for Valentine's Day as these state your incredible delight in the zeal and whimsy of the object of your affections. The only way I can imagine things getting any better would be if there were leg warmers of a similar ilk…
The woman behind the crafty fingers is Vicky from Ginga Squid, an imaginative and creative wonder who sources the wool, mostly merino, from farms around New Zealand.  The wool is coloured using Ashford dyes, a kiwi family-run company. Fibres dyed using Ashford dyes are certified under the Oeko-Tex Standard 100, the most widely known certification for ecologically-safe clothing. The wool is hand-spun using a Majacraft spinning wheel (also NZ based) then transformed into these wearable art pieces. The other yarns are sourced from people's extras or upcycled from other items found in her local charity store.  Vicky also sources materials from overseas using Fair Trade and environmentally friendly practices.  For these, priced at $135 NZD (with free shipping worldwide), and more of her incredible one-off pieces created in a pet and smoke-free home, visit http://www.gingasquid.com/shop/show_single_product.php?prod=510.
Kokako Organic Hot Chocolate
The association between chocolate and love, romance and passion has existed since the days of the Aztec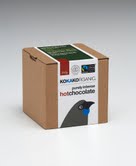 s, who believed chocolate was a source for sexual power, elevated energy and even spiritual wisdom.  Taking it as a drink, it was even used as a kind of 'nuptial aid' and served in wedding ceremonies – so of course it makes an ideal Valentine's Day gift!  Kokako Purely Indulgent Hot Chocolate is blended by hand in Auckland combining the most decadent Fairtrade Organic Cocoa and Golden Cane Sugar. Not only are the ingredients certified by the Fairtrade Association and BioGro, but ethical sourcing also means a fair deal for the growers and environmentally friendly and socially sustainable practices in the Dominican Republic and Paraguay. Because it is organic, you are savouring the rich flavours of real ingredients, free from pesticides, herbicides and additives. It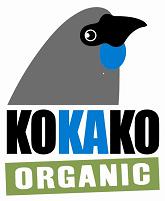 arrives packaged in a 100% biodegradable bag made from sustainably sourced wood pulp which can be composted or fed to your worm farm. The company have a conscience and also give back, with support going toward rehabilitation of the native Kokako through Ark in the Park (a not-for-profit trust) as well as being members of the Tiri Tiri Matangi Wildlife Sanctuary in Auckland.
So – if your partner has a sweet tooth, consider waking him or her up with the elixir of the gods, setting the tone for your day of romance and decadence. I am a fan of the chilli-chocolate combo, so if you are game, make like an Aztec and spice things up a little. Experiment with cream, marshmallows, vanilla or cinnamon – be decadent. We all know
chocolate contains antioxidants and stimulates endorphins so feel no guilt, savour each sip with delight and cherish the pleasure invoked by this rich, earthy concoction. Check out www.kokako.co.nz for more info and details of stockists.
Living Nature 'Love from Nature' Gift Set
For many women, skincare can be an aspect of living that holds no interest beyond the now-normal concern about sun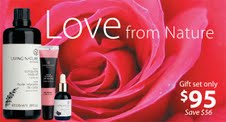 exposure. However some of us thoroughly enjoy the rituals of daily skincare regimes. I do not consider it selfish to enjoy slathering a decadently absorbent and divinely-scented cream into the world-weary pores on my face. Nor do I resist the glistening lip, the oiled thigh, cherishing and sweetening my body simply for the pleasure of it, which is where Living Nature comes in. Living Nature are a company that are devoted to nature and committed to producing skincare products free of synthetic preservatives or parabens, using 100% natural
ingredients and fragrances as well as using recyclable, reusable and reduced packaging. They are concerned not only with reducing the chemical load on the body, but also the environment.  A Gift Pack is the perfect idea for someone who likes to trial a product before total commitment – and gives her a chance to try several items at once. The 'Love from Nature' gift set features the Radiance Night Oil (with Rosehip Oil for cell renewal), Tranquility Body Oil (with Lavender for relaxation and release – go on, give her a bath and a massage!) and the Pink Whisper Lip Gloss (for, well, kissable lips!).  Valentine's Day has never been so divine.
Retail Value: $151NZD, special RRP $95NZD! See their truly
comprehensive and educational website www.livingnature.com for more.
Kowtow Clothing – Certified Fairtrade Organic Threads
I first came across Kowtow after a friend posted a link to their website on Facebook. When I started looking for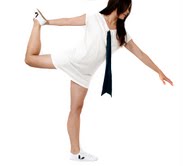 sustainable gift ideas I immediately thought of them, as their designs are urban cool, look super comfortable and come with a happy conscience. Whatever slant you put on Valentine's Day, I believe a day of romance and cherishing
would only be enhanced by the gift of something funky to wear- namely a snugly hood or a soft tee with a stylish graphic. The sailor-style dress would snazz up her summer, sending her sailing toward starry-eyed connection and perhaps he would relish a raspberry coloured tee with Love written all over it.  With all garments made from 100% Fairtrade Organic cotton, you can feel even more generous purchasing something for your sweetheart from

Kowtow, as every step in the supply chain from growing to the finished product is audited for certification by the Fairtrade Labelling Organisation. Not only that, they are certified organic by the Control Union Group with all aspects of the cotton harvesting requiring farmers to use sustainable practices from seed to processing and low-impact dying in compliance with international standards. These folk were further inspired following a trip to India visiting their cotton farmers and factory, so keep your eyes and ears out for more from these dedicated souls who believe in fashion with a conscience. Our consumer habits DO have a consequence!
Visit www.kowtow.co.nz to check out the goods, take a look at their blog and get grooving with their music links.
We're happy to report that this is a paid review. You can help Happyzine to flourish and become financially self-sustainable by supporting the high quality products and services that we write about

GD Star Rating
loading...
GD Star Rating
loading...
Green Love: Happyzine's Top Seven Recommended Gifts of Love

,
Tags: gifts, love, sustainable, valentine's day