Home » DreamtoReality: Project Planet
DreamtoReality Entry: Genevieve de Spa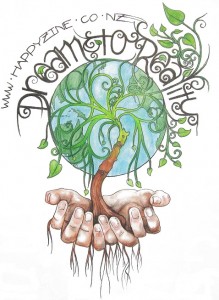 Ever since coming to live in Auckland just over a year ago, I have been thinking about how to reduce the traffic on the roads.
Rodney Hyde thinks that Auckland is "broken and needs fixing" because of the daily congestion on the motorways, and the Great Southern Motorway is lovingly referred to by Aucklanders as the Great Southern Carpark. But Auckland isn't broken, the roads work fantastically well when there is a reasonable amount of traffic on them, and hopelessly badly when they become overpopulated. It isn't rocket science, the only way to "fix" Auckland's roads is to reduce the traffic.
Sounds easy, but it isn't. To reduce the traffic at peak times would mean altering the mindset of thousands of Aucklanders. We like our little traveling metal boxes, where we can be ourselves and please ourselves. They are our own little personal haven, the last vestiges of our 'own space' before we hit the office. Public transport is widely regarded as a bit of a joke, Auckland is too blinkin' hilly to get round on a bicycle for all but the very fit, and motorcycles are just downright dangerous, with all those mad motorists to contend with. So while we love to complain about the horrendous traffic in our otherwise fair city, we don't actually want to forgo the luxury of using our own car, on our own, to get to work everyday.
The only way to fix Auckland's traffic problem is to create a massive paradigm shift in the minds of Aucklanders about travel to and from work and school…  and this is my dream.
Seventeen years ago, when I left New Zealand to travel, everybody thought recycling was a ridiculous idea. I had been battling all sorts of systems, not least the ones in people's minds, to try to get them to understand the value of recycling. I left NZ a little battle-scarred and bewildered, and a bit pessimistic about the chances of a greener planet. Seven years later I returned, and kerbside recycling was normal part of life. Paradigm shifts happen.
My plan for Auckland's traffic paradigm shift, although not fully formulated, would involve advertising and media support, bumper stickers and laminated, re-usable flyers, talk-back radio, and television and newspaper reports to make the issue come to the forefront of people's minds. I would need help with set-up of a database, but would also utilize existing car share websites. I would then focus on an area where large numbers of people work, for example, Sylvia Park Shopping Centre. I would canvass the employees and gather information from them regarding such things as where they live and what time they come to work and how they get there; what they think about Auckland's traffic and parking issues and how prepared they would be to make a difference. Using a database to collate this information I would see if there are people who actually work and live close by to each other and whether those people would be willing to try car sharing and whether others would be willing to use public transport or cycling. Although the idea is to then move on to the next area of high employment concentration and so on, the first place might be used as a focus of media attention over time to see how and if attitudes change. A shopping mall could be a great place to start as lots of advertising could be mounted at stores where the employees were participating, with the attention always on the idea that it is us who have to change, not the roads.
I have very unscientifically counted the numbers of cars around me when I have been stuck in a jam on the North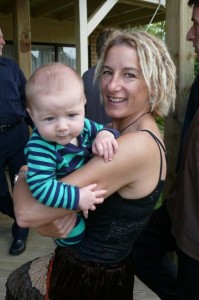 Western, and was surprised to discover, that what seemed like thousands of cars, was actually only a couple of hundred. In the unlikely event that you got everybody to car share with one other person, you could halve the number of cars on the road at peak times, effectively eradicating the traffic 'problem'.
Taxi companies would be another target for altering attitudes, as I discovered one evening that it was going to be impossible to get a taxi for the next morning at 5.30am as there didn't seem to be one available taxi at that time in the whole city. I was offered the option of sharing a taxi with a stranger in a way that sounded like they thought I was bound to refuse this hideous outrage. But why would I when I needed to get to where I was going? And strangers aren't that bad. I think shared taxis could become the norm with a little paradigm shift and a good bit of software.
By encouraging the people themselves to change, we then have a mandate to encourage the government to make changes in the same direction. Auckland's public transport is outmoded and mostly ineffectual, but there is no reason why it has to stay that way. There are many different models that could be used to make it effective and hassle-free. Studies have shown in Denmark that public transport efficiency actually improves when commuters are picked up from home and delivered to their desired location rather than walking to a pick-up point on a pre-designated route. Auckland could have a world class, efficient and well-used public transport system… and this is my dream.
I heard an anecdote the other day; that extending the railway to Auckland Airport has been stymied by the Powers-That-Be at the Airport itself, because there is so much money to be made in parking. There are many huge barriers to be overcome in order to realize a dream such as this, but I believe that starting in the minds of the average Aucklander will eventually lead to the bowling over of those barriers, and a city community that realizes far greater gains than just a quicker commute to work. Bringing communities closer together, through strangers actually meeting each other and sharing space, has far reaching effects that can include reduced loneliness and depression, greater cohesiveness in communities, greater understanding of each other and real relationships with our peers, and as a result of that, even reductions in crime. We cannot underestimate the benefits that a traffic paradigm shift would have on our society… and, oh yeah, our roads. This is my Dream.
genevieve de spa from
Eden Terrace in the Heart of our Soon-To-Be SuperCity
GD Star Rating
loading...
GD Star Rating
loading...
DreamtoReality Entry: Genevieve de Spa

,
Tags: dreams, Environment, good news, Happiness, motivational, optimism, positive news, Sustainability