Home » Music
Help Levity's Kiwi Beets Make It Big on the World-Stage With Your Vote
Submitted by Charlotte on March 5, 2010 – 6:34 pm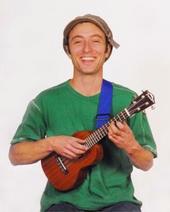 Introducing Levity Beet.  He's a New Zealand children's song writer and one of his songs has made it into the finals of an international song-writing competition.  His is the only Kiwi tune to make it through.  He's now competing on the world stage and he would like your help, well actually, your vote, to help him rise to the top!  Check out this letter to you from Levity, and his music video …
Ed.

Hi there Happyzine readers,
My name is Levity Beet. I write and perform music for children of all ages. One of my songs 'The wheels on the bus they don't go round' has just made it to the finals of the ISC (International Songwriting Competition).  As well as being judged by Weird Al Yankovic, Tom Waits, Neil Finn and others the competition has a Peoples Choice section. If you'd like to help give NZ children's music a boost (and do me a great favour!) you can vote up to once a day per email address throughout March.
You can vote by…
1. Going here…
http://www.sonicbids.com/voting/Default.aspx?p=336
2. Enter your email address and submit
3 Then go to your email inbox, open the mail from Sonic Bids and click on the link in there
4.That will take you to a page with all the finalists from all sections, scroll down alphabetically to 'The wheels on the bus they don't go round' – tick box and submit.
You can listen to 'The Wheels…' from there too.
To listen to more of my music go here…
http://www.myspace.com/levitybeet
Or see a video of my Apra NZ 2009 Children's Song of the Year here…

Cheers
Levity Beet
GD Star Rating
loading...
GD Star Rating
loading...
Tags: dreams, good news, optimism, positive news