Home » Events
Fighting The Good Fight
Submitted by anneclarke on April 6, 2010 – 4:57 pm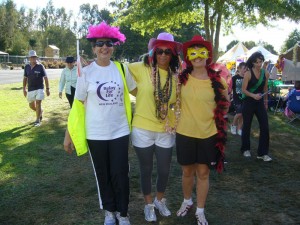 The 'Relay for Life' has become something of an institution in New Zealand. Since its inaugural launch in Palmerston North in 2001, Relay for Life has touched the lives of many and has gathered a multitude of loyal 'fans' who participate year after year to raise money for the New Zealand Cancer Society.
It is a highly successful venture. Over its lifetime 1,300 teams have taken part in 87 Relays raising over $17 million. These vital funds have gone towards providing free services for cancer patients, promoting screening for early detection, encouraging healthy lifestyles, and funding cancer research.
Financially it is a great success, but for those who have not experienced Relay for Life first hand it is easy to dismiss it as just another fundraising venture. But the Relay is something more than that; it is a celebration and awareness-raising event for the survivors of cancer and their families and supporters. It is an event that brings communities together in the fight against cancer. Cancer survivors, carers, supporting friends and loved ones unite to celebrate the lives of those who have battled the disease, to remember loved ones whom they have lost, and to fight back against cancer hoping to eradicate it once and for all.
One unique aspect of Relay for Life is that it is an overnight event. Teams of ten or more are formed by workmates, friends, families and representatives of supporting organisations. Each team member takes it in turn to keep the Relay going throughout the night by running or walking around the track, passing the baton to another team member when they need to rest. Participants can camp overnight staying for the whole event, or they can choose to just take part in a few laps, or simply provide support with their presence.
For cancer survivor Cherie Williams, Hamilton's Relay for Life 2010 was her first Relay, but certainly not her last. Too ill last year to participate, as she had been dealing with a mastectomy, chemotherapy, radiotherapy and breast reconstruction after being diagnosed with cancer in 2008, she enthusiastically welcomed the chance to take part this year. And what Cherie discovered above all was the huge outpouring of public support for people like her; people who had fought the cancer demon and beaten it.
A highlight for her was the first lap: the Survivor's Lap. With her mum by her side, Cherie walked the lap overwhelmed by the hushed silence. She says the 400m walk seemed to take forever.
'It was very moving,' she recalls. 'I was really on a high. I felt I had to walk really hard for those who didn't make it; to prove I was there for a reason. As I walked past the tent filled with my workmates and supporters, they clapped and cheered with tears in their eyes. As I walked over the finish line, I raised my hands in triumph.'
The Survivor's Lap certainly is awe-inspiring. Whilst some are still visibly ill, they take hope from the many others who are now fit and healthy and possess a glow that can only be achieved by learning, the hard way, to appreciate every moment of life.
Some participants carry banners and memorial cards, and most are dressed up in brightly coloured or themed costumes. They wait in near silence until the survivors walk past their respective group sites, erected around the outside of the track. Then there is applause, roars of support, and tears of happiness and sadness. You can almost hear the awe of the crowd, celebrating those who have faced some of the worst life can hand out.
Cherie says the candle ceremony, in which supporters line the outside of the track with tea-light lanterns dedicated to those lost to cancer, was also very moving. She also appreciates the efforts of the volunteers who every year make the event possible. 'To run an event of this size is quite an undertaking – it takes a lot of organising. It is great to see one run so successfully'.
The sense of community is something that really sets Relay for Life apart. People from all walks of life band together to fight the good fight. It is a celebration of life, and an excuse to have fun; you cannot help but become enthusiastic when you see the laughing faces and vivid costumes. There is a wonderful carnival atmosphere.
'It really gets your adrenalin going,' Cherie says. 'It is an awesome way to raise money for the Cancer Society to help people with cancer, and remember those who have passed'.
GD Star Rating
loading...
GD Star Rating
loading...
Tags: fundraiser, good news, Health