Home » Family
Just Another Day on the Farm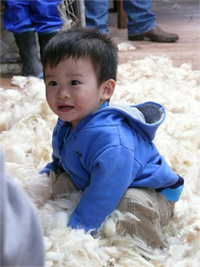 On the Sunday before Easter (28th March), my mother, granddaughter and I went on a family outing to a farm. This event was one of a number of similar farm open-days that were being held across the country; all made possible by the generosity of farmers who for one day 'opened their gates' and allowed the public in to experience a working farm.
The farm we visited was Ngawai Farm in Palmerston North. For the open-day, it had pony rides, tractor rides, a farm tour with a presentation of modern farming equipment, sheep shearing and a chance for the kids to play in newly shorn wool. It was easy to spot the townie in our midst as my granddaughter complained about the smell of the wool!
Mum and I had a lovely time reminiscing about trips we used to make to visit friends on their farm near Mangakino, staying in their shearers' quarters. It gave my seven brothers and sisters and I the chance to share in the day-to-day running of a farm. It brought back fond memories of seeing the newborn, motherless lambs being kept warm in the gentle heat of the wood-burning oven; and playing games such as pretending we were sheep in the sheep sheds getting ready to be shorn and herding each other up and down the runways.
I am very fortunate to have Happyzine to share this event with other New Zealanders. These events happen once or twice a year in different parts of the country. Many thanks to Brian and Stu Waters for opening up their farm and allowing us to spend some time with them. Also thanks to all the other local farmers who came to help them on the day. For further information, check out http://www.farmday.org.nz for details about the next great event. I recommend it as a fun and informative day out for both adults and kids alike.
By Mary Speller
About Mary Speller:
Since childhood, I have loved reading biographies and autobiographies. As a result, I came to believe that people are capable of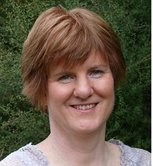 great achievement when empowered by something they feel passionate about. We are all born with unique strengths and abilities that we can develop and tap into as we age. These can include physical strength, determination, artistic talent, a sense of justice and so many more.
Life circumstances, abuse or lack of opportunity can prevent or deaden the drive to discover and use our unique gifts. In my own life, I grew up with the belief that I was not good at anything, but I also had a belief that I was not testing my limits and achieving my best.
I now realise that I have learnt so much in my life through my reading, interest in psychology and personalities.  Combined with an overdose of optimism and the skills I have developed through my Social Policy studies, writing tutoring, supporting people to negotiate government departments, and lobbying government, I now have quite a broad knowledge-base. I have also been running a home business for the last year and a half; have created an online blog, and am currently taking a business coaching course.
I have enjoyed the freedom I have to create my own business, and have my voice online. It is very important to me to help people who decide today is the day they must change. I want to encourage and support you in your journey of getting to know yourself, to claim your life and believe in who you are. I want to help you to develop and use practical steps to set goals, and make plans to create a life that is perfect for you.
Have a wonder-filled day!
GD Star Rating
loading...
GD Star Rating
loading...