Home » Arts
Letting Space "Making Dreams Reality" Fast-forward, Rewind – A new Public Art Project
Submitted by Charlotte on April 12, 2010 – 3:54 pm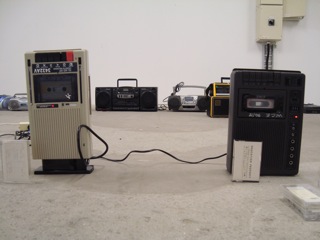 News Release
The tape player, which went from a central portable musical device to redundant technology in the space of 27 years is being resurrected in Wellington's Willis St for the art project Popular Archaeology. Audiences can hear, if they listen carefully, a chorus of looped New Zealand pop hooks from the likes of Lee Grant and John Rowles through to Split Enz.
Sound artist and composer Dugal McKinnon has staged a tape deck revival, playing tape loops of disintegrating fragments of New Zealand singles that made the top 10 between 1967 and 1994 in a wall of sound comprising over 30 tape players.
Held in a vacant retail space at 141 Willis Street in central Wellington between 18 April and 9 May, this is the first project in a major new programme of temporary public art in Wellington called Letting Space. Pivotal to Letting Space is the strong involvement of property developers, and Popular Archeology involves a partnership with The Wellington Company.
Popular Archeology is also an archive: of tape players, popular music and people's individual cassette tapes. Counter to retail's obsession with the new and the untouched, McKinnon is inviting people to bring back to the retail environment their boxes of old cassette tapes for one last whir on the tape decks. They will join a temporary community archive, and performance space over the project's length.
"Music's shift to digital disembodiment, via a seemingly endless series of format changes," says Dugal McKinnon, "leaves in its wake a trail of outmoded objects and devices, some of which live a shadow life as retro-cool fetish objects: where mini-disc and 8-track cassette are consigned to history, LPs and cassettes continue to circulate."
Letting Space is a visual arts project, funded by Creative New Zealand and the Wellington City Council, which through discussions and exhibitions seeks to transform the relationship between artists, property developers/ owners and their city. As the effects of a recession on the property market continue to be felt, Letting Space explores creative ideas for the use of vacant commercial space, be it a shop, office block or apartments.
The Letting Space team also welcomes short written pitches by April 23 for the use of vacant commercial space by artists and property developers and managers. Six of the best pitches will be selected for what they are dubbing The Urban Dream Brokerage, a Dragon's Den like pitching session at City Gallery Wellington on 6 May.
The second project Free Shop by Kim Paton will follow opening Friday 21 May at 38 Ghuznee Street.
This Letting Space project is supported by Creative New Zealand, Wellington City Council and The Wellington Company. Letting Space is curated by Mark Amery and Sophie Jerram.
Popular Archeology: A Sound Archive
Dugal McKinnon
141 Willis St, Wellington
18 April – 9 May 2010
10am – 6pm
For more information: www.lettingspace.org.nz
More about The Wellington Company
Established in 1990 The Wellington Company have been a major player in the redevelopment of Wellington city's urban environments and historic places. The company initiated the residential redevelopment of inner city Wellington and took a major role in the resurgence of Wellington's Cuba quarter.
More about Dugal McKinnon
McKinnon is a composer, sound artist and Director of the Lilburn Electroacoustic Music Studios at the New Zealand School of Music. His music has been performed in Asia, Australasia, Europe and North America.
Contacts for images, information and interviews
Mark Amery – mark@amery.net (phone 027 3566 1239)
Sophie Jerram – sophiejerram@paradise.net.nz (phone 029 934 9749
GD Star Rating
loading...
GD Star Rating
loading...
Tags: art, event, Sustainability