Home » Events
Student Music and Dance Performance at Chinese Festival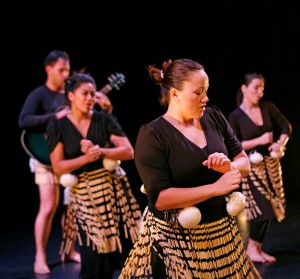 Music and Dance students from The University of Auckland will be showcasing New Zealand arts and culture this May at the Beijing Modern Music Festival.
Representing New Zealand for the first time on the large international stage, the group will perform amongst an international line up from North America, Europe and China.
The group are from the University's National Institute of Creative Arts and Industries and consist of a troupe of 11 young dancers, one music student and their lecturers. They are the first delegation from New Zealand to appear at the annual music festival, and have been dedicated an entire evening for the purpose of showcasing their talents and the music and dance of New Zealand.
The dominating performance feature from the company, 'Woven', has been choreographed by postgraduate student Juanita Jelleyman and is one of seven pieces in the 90 minute ensemble. Reflecting New Zealand's cultural diversity, the piece weaves together threads of Māori, Pacific and contemporary New Zealand movement. Music by composer and fellow University of Auckland student, James Bryant, accompanies 'Woven' with a New Zealand infused soundscape of haunting vocals and electronic Māori and percussive sounds to create an exciting backdrop. In addition there will be a number of pieces of electroacoustic music by School of Music students and staff which will be presented as part of the concert.
The New Zealand delegation includes students from Māori, Samoan, Fijian, South African, Chinese and New Zealand European backgrounds supporting and reflecting the 'Woven' motif as they bring together an engaging collection of eclectic pieces of electronic music and contemporary dance, influenced by the cultural heritage of New Zealand and the Pacific.
Head of the School of Music, Professor Robert Constable, says that the Chinese tour is a great opportunity for the students involved. "It is also an opportunity to showcase the high level of creative talent in New Zealand to an international audience".
Head of the Dance Studies Programme, Associate Professor Ralph Buck, adds that it will also build the confidence and identity of the emerging artists on tour.
"The experience will place their learning, knowledge and skill in an international context from which they can view the peculiarities and distinctive cultural elements of New Zealand and Pacific culture. The students return wiser and more confident with a greater appreciation of their own strengths."
Following the performance at the Beijing Modern Music Festival the Auckland-based group will perform at the Nanjing Arts Institute where they will also run cultural dance workshops including a Māori Kapa Haka workshop, for staff and students.
Contact:
Megan Fowlie, Communications Adviser
Phone 09 373 7599 ext. 83257
or 021 802 143
m.fowlie@auckland.ac.nz
GD Star Rating
loading...
GD Star Rating
loading...