Home » Business
Five Tips for Success: Tip #Three Develop and Trust your Intuition… Listen to your Gut Feeling!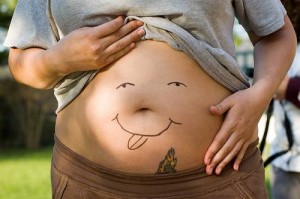 This tip for success is one of utmost importance… Listen to your gut!
I am not referring to the grumbling noises when you haven't had your breakfast; I am referring to your intuition, that physical urge when you know when something is right or wrong and what decision you should make.
Intuition, also known as women's intuition, gut feeling or gut instinct is described as: the act or faculty of knowing or sensing without the use of rational processes; immediate cognition.
If you look at the top leaders in business, sports, science or almost any field you will find people who have a developed sense of intuition.
I am going to assume that everyone reading this post understands the concept of  gut instinct or intuition. Whether you are "tuned in" regularly or just have moments of clarity from time to time, intuition as a concept is now accepted in day to day living.
I have only become present to my intuition in the last few years. I found that my willingness and ability to listen to and trust my intuition came hand in hand with peace, personal growth and happiness.
When I analyse this and break it down I start to realise that trusting my instinct has directed me through many of my life challenges. I
can relate most of my moments or periods of stupidity with when I didn't trust my gut instinct and went with what seemed easier or more logical.
I also see that it is easier to trust my gut feeling when my head is not cluttered with problems, emotions and drama. When I was in my teens and early twenties I was insecure, lacking in confidence and self esteem. Emotions like fear, uncertainty, jealousy and sadness add clutter and confusion to intuition and it is easy to lump it all together in the broil of inner voices.
Seeing as most young people experience a similar mix of emotions at some point, it is not surprising that we as humans learn to distrust our intuition!
Intuition gives you a feeling, but it is not a feeling. It is a knowing without knowing. It means everything and nothing. It is a judgement without emotion.
So, how do you develop your intuition?
I don't think there are any hard and fast steps to developing your intuition, but here are some things you can do that I believe will help.
1. Ask yourself "what is my gut telling me?"
This question, as simple as it sounds will generally point you in the right direction. I ask it all the time of people who are struggling with decisions and the answer is always there, yet often clouded with arguments, logic and fear.
The trick here is to "listen" to your intuition, trust that it is right and then act upon it; we tend to take the easy path in life even if your intuition doesn't agree. Trust your gut feeling and act on it.
2. Listen
Listening is something that we vastly underutilise! Do you listen for the communication or do you "hear" what is being said? Many millions of communications each day are misconstrued because we are hearing the words but we are missing the communication. Add to this the complexities of communicating by text messages and email and you have a recipe for disaster!
Communication is made up of many things including action, body language, speech and intent. If you are just hearing what is being said, you are missing out on many parts of the communication and this is where problems arise. Try to listen to communications you receive with your gut.
For example if someone you love is often saying words that nag you, use your intuition and "listen" for what the real communication is… A friend of mine used to visit his mother every few weeks, and every time his mother would start up with the questions the moment he walked in the door:
Have you got a girlfriend yet?
What are you doing with your life?
You look too skinny, are you eating properly?
This incessant nagging caused frustration and arguments from as far back as he could remember, until the day he realised that her communication was not the words she was saying. Her communication was that she loved him and wanted him to be happy.
From that moment, every time he "heard" the nagging questions he would smile and respond "I love you too Mum", and she would smile and say "good".
If you have relationships where the conversations don't work, try listening for the whole of the communication rather than just the words said. You may be surprised how different the message is!
3. Personal development
Personal development is very important when it comes to developing your intuition. There are thousands of ways you can expand yourself and grow as a person including travel, meditation, courses, retreats, books and DVD's, all manner of adventure, public speaking, starting a business etc.
Anything that puts you out of your comfort zone and pushes the limits of how you perceive yourself will help you gain confidence, inspiration, self expression and self awareness. All which will give you the mental peace you need listen to and trust your intuition, as well as a greater capacity for satisfaction, happiness and love.
So, that is the 123 of developing your intuition! Easy, right?! Hee hee!
I would love to hear if you are someone who actively uses your intuition and if you had to develop it, or if you just always trusted it from the start?
Serena xx
PS. If you missed out on Tip 1 and 2, you can get them here!
About Serena Star Leonard:
I have always had a healthy belief that if you really want to do what you love for a living you can find a way to make it work for you (and done right make it work really well for you!). My coaching practice is designed to guide people who understand that there is something more to life than working 9-5 and who are driven to do something about it.
Recently I noticed that many people were trying to use the internet to create alternate sources of income but made the same costly mistakes time and time again. So much so that I partnered up and created Grassroots Internet Strategy, a small business resource that helps people understand what they really need to know and plan for.
If you have a burning desire to either start or expand I would love to hear from you.
GD Star Rating
loading...
GD Star Rating
loading...
Five Tips for Success: Tip #Three Develop and Trust your Intuition… Listen to your Gut Feeling!

,
Tags: dreams, good news, Happiness, positive news