Home » Food
Conscious Consumers Cafe Guide Launch – June 2nd – An Exciting New Project for the Wellington Cafe Scene

On June 2nd we are launching an exciting and innovative project that will revolutionise the way Wellingtonians make choices about their cafes.
An increasing number of New Zealanders are seeking sustainable products and services including organic food, beverages and fairtrade products. We understand that good information on the sustainability of products and services we buy can be hard to find. We've created the Conscious Consumers Café project to provide consumers with information on what their favourite Wellington cafés are doing to improve the social and environmental impacts of their business practices.
The project also makes it easy for cafes to make the most of growing consumer interest in environmental and social business practices, by:
a)    showcasing the efforts they are making to customers in a fun and engaging way, through instore displays and on our website
b)    providing tips and information on how to improve the environmental and social impacts of their business in ways that make good business sense, and
c)    linking them with the local suppliers of more environmentally and socially conscious goods and services.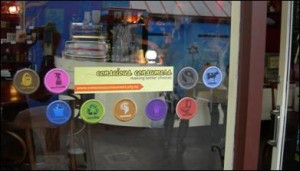 The project awards cafes 'badges' for each of the nine good business practices that we promote. To be awarded a badge, a cafe has to meet a 'reasonableness' test for that practice. We don't want to reinvent the wheel so, where possible we have incorporated existing credible certification schemes into our reasonableness tests.
You can check out a copy of the booklet we've designed for cafe customers to read in-store here. In it, you can read more about the project, the practices we promote and how badges are awarded. One of the key philosophies behind our project is to be inclusive – by acknowledging and celebrating all good practices. Whether two or nine badges, we will recognise and commend each business for their efforts.
We'd like you to help us spread the message about this exciting new project as far as possible.  If you would like to get in touch with us or find out more about the project, please email us at conscious.consumer.wellington@gmail.com
This project has been created and is coordinated by the 42collective, a charitable incorporated society based in Wellington.  The vision of the 42collective is for Wellington to be a place where it's easy for people to live socially and environmentally responsible lifestyles.
GD Star Rating
loading...
GD Star Rating
loading...
Tags: Food