Home » Uncategorized
365 Days of Fun and Chillaxation – Blog#48 – Chocolate … Of Course It Cuts Cholesterol (it's Brown Love).
Submitted by Charlotte on June 2, 2010 – 10:29 pm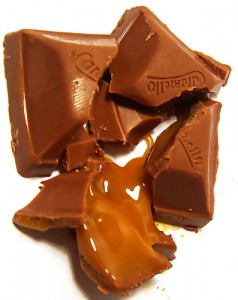 (As I raise my child and grow my good news website)
I see that Stuff has reported on the squillionce study to report on the health giving effects of chocolate consumption.  Those of us that regularly partake in the cocoa bean aren't in any need of quantitative validation.  We're simply living proof.  We just know the health boosting, stress lowering affects of the sacred brown substance.  Because, thanks to our devotion, we practice the discipline of choc-reverence often…. sometimes mulitiple times daily.  The affects are strikingly apparent.  I mean we're obviously far more attractive as a result.
In fact, as you may have noted from the previous statement, chocolate and optimism go hand in hand.  You see, chocolate carries the love hormone, aka ' phenylethylamine' but we'll just call it 'PEA' .  So people geniunely do feel much better after partaking in the delectable sustance.  I know that some research has proven that Mums who eat chocolate during pregnancy are calmer parents with calmer children (yes, there's a little bit of research to back up anything).  I hope they keep pumping out these studies, it all goes towards keeping the good family business of Whittikas Chocolate (here in New Zealand) in operation.
Today's rating: 8/10
PS this is the first MOMENT I've been able to get to the computer and my Happyzine baby today.  Ahhh life as a single Mum.  It's full, to say the least. 
365 Days of Fun and Chillaxation (as I raise my gorgeous son and  grow my good news website to a subscription base of 100,000 people).  The Low Down on this Blog.
Check out yesterday's blog.
GD Star Rating
loading...
GD Star Rating
loading...