Home » Headline, Youth
Young Otago Film Makers Win at National Awards
Submitted by Charlotte on June 4, 2010 – 3:15 pm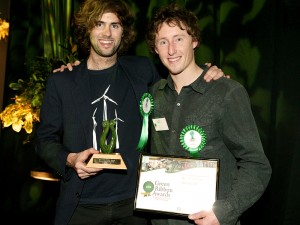 Emerging Dunedin-based film production company Splashroom Media (Splashroom Ltd) took out a major award on Thursday night in Wellington at the Ministry for the Environment's prestigious Green Ribbon Awards. The award, presented by Hon Dr Nick Smith for 'Media and the Environment' recognised Splashroom's outstanding contribution to the environment through film production and social innovation.
Through completing their Masters in Science Communication and Natural History Filmmaking, Splashroom's crew has produced a variety of award-winning films, premiered them nationwide, and collaborated on two large-scale community action festivals. After only operating full time since the start of the year, "the award came at a huge surprise – it's an awesome opportunity to connect with other business and organisations all leading environment focused innovation around New Zealand" – Guy Ryan, Managing Director. Operating out of Otago University's Centre for Innovation, Splashroom has a vision to become New Zealand's leading producer of solution-focused films that inspire action – helping to solve 21st century social and environmental challenges.
Despite the many challenges of running a start-up company, Ryan says "so far the journey's been really exciting and we've had a lot of support." Splashroom is producing films for a diverse range of clients spanning industry, NGO's and government – one of which, recently took them to Nepal – "we're working with Caritas Aotearoa to produce an educational film for New Zealand secondary schools to learn about how a rural Nepalese community is dealing with challenges of climate change." www.splashroom.co.nz.
PHOTO CREDITS:
From left: Edward Saltau and Guy Ryan of Splashroom Ltd. Photo courtesy of Neil Mackenzie (www.pixs.co.nz).
CONTACT: Guy Ryan (Managing Director, Splashroom Ltd) – 027 485 0941
WHO: Emerging Dunedin film production company Splashroom Media (Splashroom Ltd)
WHAT: Splashroom announced as category winner (Media & the Environment) – Ministry for the Environment's Green Ribbon Awards
WHEN: Winners were announced evening of Thursday 3 June 2010
WHERE: Parliament – Wellington, NZ.
GD Star Rating
loading...
GD Star Rating
loading...