Home » Uncategorized
365 Days of Fun and Chillaxation – Blog#56 – Kumara, Spinach and Ginger Soup Recipe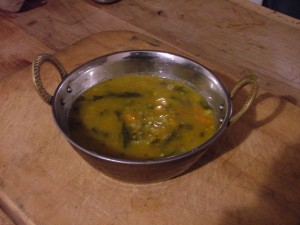 (While I raise my son and grow my good news website)
This evening I cooked this yummy winter soup and a gluten free apple/feijoa crumble.  The soup was delicious.  All the nourishing vegetables, so hot and tasty, somehow lulled me into this dreamy, relaxed state …  it was nice.
Here's the recipe for Kumara, Spinach and Ginger Soup
1 Leek
2 Onions
5 – 10 cloves of garlic
1 large kumara
3 smaller potatoes
1 carrot
1 apple
1 bunch of spinach (mine was quite large)
1 Green Pepper (if you have it)
Oil
2 stock cubes (I used organic Rapunzel vegetable bouillon cubes)
Water (add as much as you like depending on how thick you like your soup)
Salt
Pepper
1 table spoon grated ginger root
Directions
Slowly fry the finely chopped leek, onion and garlic in the oil.  I did this quite gently.  You can add the ginger root in too at this point, though tonight I put mine in at the end for extra goodness.  Then add in the chopped potatoes, kumara and carrots and continue to fry for another two minutes (approx).  Next, add 2 litres (approximately) of water to the veggies.  Just add what ever you can fit into your pot.  Bring the contents of your pot up to a boil.  While you're doing this, add your chopped apple (Bev at the veggie stall said her Mother used to add apple for sweetness so I thought I'd try and it worked beautifully) and the chopped capsicum (I just happened to have one I needed to use as my son speared it thoughtfully with a knife.  It actually added a nice sweet, fresh flavour).  Once the soup is boiling, turn down the heat to low, cover the pot and leave it to simmer gently for around an hour.  Add in your finely chopped spinach, with the grated ginger and just allow the spinach to gently break down into the mix.  I like to add the greens in last so as to avoid cooking too much goodness out of them, though in this case they were fairly well cooked.  Boil some water and dissolve the stock cubes (I added two cubes to half a cup of boiling water).  Break them down into a liquid then add them to the soup.  Once it's cooked for around an hour (though for those who are into raw food, you could easily cook this soup in half the time, or even less), mash, or blend up the soup.  Then add salt and pepper to taste. 
This made a really great quantity of soup.  I'd say it would easily serve around eight people.  We ate it with toast that we'd rubbed raw garlic over (it's amazing, it grinds down into the toast like a spread), with olive oil and finely grated parmesan on top.  Beautiful!
As I said earlier, this soup left me feeling sleepy, well nourished and very relaxed.  The veggies felt incredibly right for my body.  This is such a warm, wintry dish, especially here, where it's pouring with rain.  I loved watching my two year old tucking in, he had two bowl fulls!
Today's rating: 8/10
PS the Lush Green Golden Bay Getaway draw continues to attract in new email addresses, and we're going to hit 800 very soon.  I'm so very happy to see that people would gladly make their way here from Wellington, Auckland, Christchurch to enjoy a weekend of Golden Bay eco-friendly magic! 
PPS I am MEGA excited about the Wild Energy sustainable design competition that we're (David Laing and I) planning.  Today we finalised the guidelines and now we're looking for high-calibre judges and prizes (including spot prizes).  Eco-friendly ones of course (the prizes).  Any suggestions?.   
365 Days of Fun and Chillaxation (as I raise my gorgeous son and grow my good news website to a subscription base of 100,000 people).  The Low Down on this Blog.
Check out yesterday's blog.
GD Star Rating
loading...
GD Star Rating
loading...