Home » Uncategorized
University of Canterbury's 'Eco-my-flat' winners announced
Submitted by Charlotte on June 11, 2010 – 10:26 pm
Grey-water recycling, foraging for apples and building cider presses, building glasshouses, growing extensive vegetable gardens and organising community events aren't things you'd normally associate with student flatting.
But these are exactly the sorts of things the 2010 participants of the University of Canterbury's 'eco-my-flat' competition got up to during the first semester. In addition they raised native seedlings for environmental restoration projects, stopped up their draughts with hand-sewed 'door snakes' and preserved masses of fruit and vegetables.
The final winners were 'Tauawhi' on Hooker Ave, who won the Most Inventive and Supreme Flat awards, and 'Frew Frew' on Renfrew St, who won Most Improved. The awards were presented at a ceremony on Saturday evening by Parliament's newest and youngest Member, Gareth Hughes MP who entered parliament for the Green Party following Jeanette Fitzsimons' recent retirement.
About 100 students got involved in the competition, with a shortlist of eleven flats making it through to the final judging. "Judging was certainly tough," said the competition's organiser, Dr Matt Morris, UC Sustainable Practices Coordinator. "Our four judges studied over 50,000 words of student blogs and assessed the flat audits and eco-living workshop attendances to arrive at their final decisions. In
the end they had to give two 'Highly Commended' awards and they invented a new 'Supreme Flat' award because the standard was so high," Dr Morris said.
The four judges were TV sustainability personality Te Radar, Christchurch City Councillor Chrissie Williams, the CCC's Sustainability Advisor Tony Moore and the University of Canterbury's Sustainability Advocate Dr Kate Hewson.
"I think I do quite well, but these people were just amazing," said Cr Williams. "The extent that they've gone to, and all the changes they've made has been very impressive. The community building aspect was great to see. For strong sustainability this community dimension is so important," she said, referring to the emphasis shown by the eco-flatters on getting to know their neighbours and other students involved in the competition.
Te Radar said that eco-my-flat "was a fascinating competition to judge." He was impressed by the standard eco-improvements most of the flatters had made, but said he was looking for the flats that had "made sustainability sustainable" so that they could keep up their good work. He said he was also looking for flats that took the competition outside of the flat and into the wider community. "To
me sustainability is about communities and community building: allowing people the resources and inclination to become involved," he said. "It was stirling work all round."
The City Council's Sustainability Advisor, Tony Moore, was equally impressed. "They were outstanding efforts. If everyone lived like this we'd probably live on Planet Earth forever. The range and depth of the commitment of the flatmates has been incredible this year. We need to get this throughout the country and at every university," said Mr Moore, who has judged the competition for three years in a row.
Dr Kate Hewson said "the level of creativity and good humour that was shown by the participants is what I've enjoyed the most about the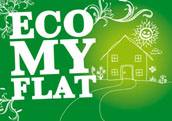 competition this year." Dr Hewson has also judged the flats for three consecutive years.
The competition's organisers had yet to make a final decision about whether to run it again in 2011.
"We are doing a full evaluation of the competition at the moment. But the feedback we've received so far as been so positive, and the results were saw were so fantastic that I'd think we'd almost certainly be running it again next year," said Dr Morris.
GD Star Rating
loading...
GD Star Rating
loading...
University of Canterbury's 'Eco-my-flat' winners announced

,
Tags: good news, personal sustainability