Home » Uncategorized
365 Days of Fun and Chillaxation – Blog#59 – The Kiwi Online Community they Call 'Intersect'
Submitted by Charlotte on June 13, 2010 – 7:23 pm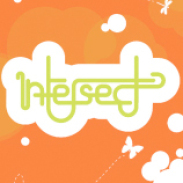 (While I raise my son and grow my good news website).
Intersect.  This is another website that I really enjoy (yesterday I raved about inhabitat.com) and have been spending some time on over the past few days.  It's a Kiwi based online community for open minded, intelligent, creative, eco-conscious kiwi professionals and it's up there amongst the cluster of my most favorite online forums.
First, lets address the appearance – I like the cool art deco shell of Intersect (I don't know if they intended for someone to call it 'art deco' I just got that word off my artist friend Emma who is in love with art-deco everything.  Previously I called it 'retro', but I digress).  Check out this site if you've got a little time to dig around.
My current favorite aspect of this site is the 'Job Board and Opportunities' discussion forum.  I like this section because I know that the vacancies will be generally leaning towards a healthier society and planet.  In fact I've just posted up my own wee notice asking for sustainable design bloggers.  It's also got a 'groups' section, some of the groups are: 'Sustainamums and Ecodads', 'go-go rubbish girls', 'New Zealand Leadership', 'Quick meals for eco-heroes', '350 Aotearoa', 'Wellycats', 'Frocks on Bikes' and 'Oooby'.  There's heaps more to this site, including a focus on events and strengthening community (in actual physical reality) amongst Intersectors around the country.
This is what they have to say for themselves:
"Our members are creating a more vibrant, thriving & environmentally conscious society. We're a diverse bunch, including accountants, artists, designers, engineers, entrepreneurs, health practitioners, IT gurus, journalists, lawyers, policy advisers, researchers, scientists, teachers and many more. This is a place where you can meet some like-minded (and not-so-like-minded!) folks, learn, inspire, seek assistance, share events and develop opportunities."
This site just feels good.  Check it out sometime .  I'll be your friend!
Today's rating: 8/10
365 Days of Fun and Chillaxation (as I raise my gorgeous son and grow my good news website to a subscription base of 100,000 people).  The Low Down on this Blog.
Check out yesterday's blog.
GD Star Rating
loading...
GD Star Rating
loading...
365 Days of Fun and Chillaxation – Blog#59 - The Kiwi Online Community they Call 'Intersect'

,