Home » Uncategorized
Do Something for "Those to Be Homed" in Auckland by Yvonne McLaren
Submitted by Charlotte on June 15, 2010 – 5:00 pm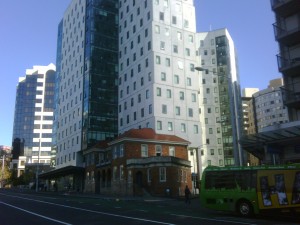 This is Yvonne McLaren's first ever blog for Happyzine.  Yvonne works with various 'to be homed' groups around Auckland and has good news to share …
This blog is about homelessness, but not as we know it fellow people in the universe.  I like to think of my friends on the streets not as "homeless" which often equals "helpless" in our minds. No these are indeed our fellow citizens and so I will refer to them as "those to be homed" so we have an intention towards them that is positive and affirming.
There don't seem to be as many "to be homed" in Auckland as say London or San Francisco where I first heard the word "homeless" in 1990.  I knew about street kids because I was a teacher in Otara at the time and would watch the playground wake up in the morning and walk from the park across to the bakery everyday and get whatever food they could beg, buy or steal.  But I didn't know that in a country with social welfare that we could have homeless people.
Now I work, like a lot of people around the country, on a volunteer basis helping those who are poor and disenfranchised to get where they need to go.  Everything that is done starts with one motivation… to do SOMETHING.
We formed a group in 2006 that began with an idea called, the bun run, it was a few people who thought they would like to "do something" and over three years it became a Thursday night tradition to go out and deliver buns and soup to people around the streets of Auckland.  We also arranged a Christmas in the Car park behind the building that allowed people to get fed and have a good time and it was run every December.  Funds were raised through a music cd and a show called Barn Stock.
Donations often came to us from total strangers.  Hundreds of people were fed out of the basement of a church in Newton gully with about 30 people coming and going each week and lives were changed.
My friend Russell came off the streets after 21 years living between the prison and homelessness.  He got his first identity documents in 10 years; it took us months to get him a drivers license and a bank account.  He went through rehab and prison again in that time, but his life has been turned around by his decision to move in a different direction.  Now he chooses to stay in a place where people can help him get where he really wants to go.  Thirty people who cared helped hundreds to eat and one person to completely move to a better life that is safer and more fulfilling.
Next time I will tell you about 5 people who started a food bank and help a local hostel that now get to have meals every week and they are now helping to clean up a local school.
This is a happyzine and those we see around us who are to be homed need our happiness to spill out to them, through smiles and hellos, through kindness and humility, a handshake, some food, a blanket. Whatever you do, whoever you know, however small the effort, we are all capable of doing something… what are you going to do today?
A caring professional from the finance industry who thinks everyone matters, all the time.  Happily living in Auckland but still a proud Wellingtonian. @bucketree on twitter
GD Star Rating
loading...
GD Star Rating
loading...
Tags: good news, to be homed