Home » Uncategorized
365 Days of Fun and Chillaxation – Blog#72 – The Manly Bouquet:A Little Gem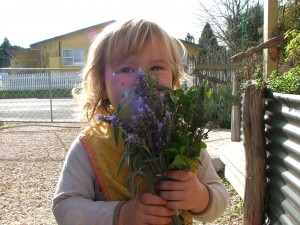 Have you ever been at odds about what to get that guy who has everything for his birthday? Perhaps you're running a little low on time or money, yet you really want to offer some token of your appreciation to the lucky guy.  I've got just the idea for you! 
It's the Manly Bouquet.  Quick and fun to whip up.  Strong and aromatic.  Visually appealing.  And if the word 'bouquet' offends his masculinity, turn it upside down and it's a bunch of culinary herbs! 
Into today's bunch went rosemary, sage, thyme, mint, and lavender – note the distinct mediteranean theme?  But you can browse your garden grounds and select your very own, personalised Manly Bouquet!  For free!  Gone are the days when you turn up at your friends house with a bunch of flowers for the lady of the house, and half a dozen beer for the gentleman.  We're entering into the new age – of the Manly Bouquet! 
(Cooking recipes availabe on google). 
Ahem … I just had the urge to go all TV Advertorial on you.  Well I enjoyed it. 
So today I presented my first ever Manly Bouquet to Alex the birthday boy in Tukurua.  Cooincidently, he had an enormous pot of tomato, garlic sauce bubbling away on the stove at the time, so I suspect the bouquet would have quickly been turned into a Bunch of Culinary Herbs.  Of course, here in Golden Bay, giving a guy a bunch of flowers is no big deal at all.  Some of them are more feminine than I am actually.  Alex was even wearing a luscious white shirt with pinky-red swirls all over it which I eyed appreciatively.  And, it must be said, he is a straight man who often warmly cuddles his man-friends.  And they're ok with it … well they appear to be … 
What would you make a Manly Bouquet with?  If you're a guy, would you present a Manly Bouquet to another guy? If you're a girl and you present a Manly Bouquet to another girl's guy, is that ok?  Would you give a Manly Bouquet to your father? Why is there a 't' at the end of Bouquet?  Is it ok to use a bunch of salad greens as a Manly Bouquet? Some interesting anthropological questions to consider …
Today's rating 9/10
PS you will note that I have, of late, been hovering around the 9/10 mark in my daily fun and chillaxation endeavors.  Although life isn't always a 'walk in the park' and I've had my challenges, particularly as I adapt to being a single-Mum, I do create the time each day to do some thing that feels good for myself, for this blog.  Some days it's the happiest thing I do all day.  Other days, the stuff I write about is but one event or issue, in a complex and rich day, full day of many delicious aspects.  Having set the challenge to myself to stick to writing this blog every day for one whole year, it's basically forced to me to make the effort to feel good, every single day.  And it's been immensly motivational and good for my soul to maintain the discipline.  So thanks, if you're reading this blog, for tuning in and inspiring me to stick to my plan.
365 Days of Fun and Chillaxation (as I raise my gorgeous son and  grow my good news website to a subscription base of 100,000 people).  The Low Down on this Blog.
Check out yesterday's blog.
GD Star Rating
loading...
GD Star Rating
loading...
Tags: good news