Home » Uncategorized
365 Days of Fun and Chillaxation – Blog#89 – Dear John: Cycling Australia For Future Generations
Submitted by Charlotte on July 14, 2010 – 10:13 pm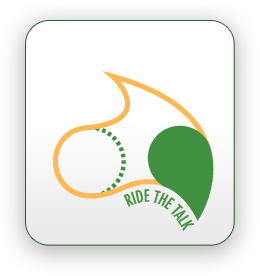 Hey people!  Meet John Knox, he's preparing to take to the streets of Australia, on his bike.  Sooooo … why exactly?
"At the ripe old age of fifty-four, I have decided that, rather than simply complain about the lack of action on Climate Change, I will actively work to help create the world in which my two gorgeous kids can live a safe, low-carbon lifestyle and my family and others will be secure from the worst effects of Climate Change.
Starting in July 2010, I am taking six months leave of the Alternative Technology Association (and my family) to go on an odyssey around Australia by bicycle, providing talks on energy efficiency and what each of us can do to reduce our carbon footprint. I want to empower people as I believe that most of us want to contribute to help create a safe climate but just don't know where to begin.
In order to maximise the impact and persuasiveness of my presentations, I have decided to gain skills in platform speaking. This whole undertaking is costing my family dearly – not just in the cost of the training and missing income but also in an absent father – but, if the result is as I hope, the cost will be worth it."
I talked to this deeply focused, incredibly inspiring man today on Skype.  He's going to do me the honour of being in my e-book.  He gave me his 'talk'.  It was deeply moving.   Especially the bit where he talked about needing to pave the way for his children and their children, that bit nearly had me in tears.  It was also the manner in which he delivered his talk that moved me.  He's a powerful speaker. He's also getting very, very organized.  At present he's being booked into give talks to local councils all over Australia.
So what's he saying?
Basically, he's calling on each of us to undertake three positive actions that contribute to a low carbon future.  He's asking us to undertake these three actions within three months.  And thirdly (he has a thing about threes) he's asking us to ask three of our friends to do the same.  He said that 'three' is a good number.  Three actions aren't too daunting – for example you might install green light bulbs, start taking the bus rather than your car to work, and grow a veggie garden.  But they're enough to make a difference.
Three interesting things I learnt from John today:
1.  How to give a powerful, inspiring talk that hit's home emotionally and is more likely to trigger positive environmental change (this technique I will feature in my e-book);
2.  If you leave your cell phone charger plugged into the wall, it keeps using power!
3.  Appealing to people as parents, as fellow human beings, is the most powerful way to get the message across.
If you'd like to get to know a little more about John, sign his petition, shout him a 'cup of coffee', join him on facebook or twitter, or leave a comment on one of his blogs, check out his website: http://www.ridethetalk.com.au/
Today's rating: 9/10
365 Days of Fun and Chillaxation (as I raise my gorgeous son and grow my good news website to a subscription base of 100,000 people).  The Low Down on this Blog.
Check out yesterday's blog.
GD Star Rating
loading...
GD Star Rating
loading...