Home » Uncategorized
365 Days of Fun and Chillaxation – Blog#92 – My Dog Maia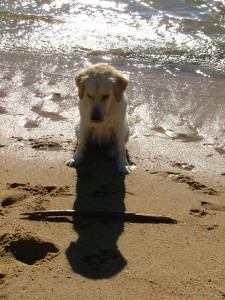 This is a tribute to my dog Maia.  It's a celebration of her life.  Only I'm doing it while she's still around for me to celebrate.  Cool huh? Feel free to leave your own tributes to any animal or person you love at the bottom of this blog.  She's three, my dog.  She's an Aries/Pig.  What a fantastic mix!  Yes, I just told you what star sign and Chinese sign my dog is. It's just how I think sometimes.  I find it useful.
My dog Maia, who is currently lying directly at my knees, was literally bought into my world (for the sum of $400, which seems a strange concept, you know, paying for a being, but anyway) to bring me joy.  That was what we intended for her, and that's exactly what she's done.
Maia is perpetually happy and really quite independent.  She's very obedient, except for in two instances a) when she wants to go play with her blond friend 'Rachel' the hunt-away cross across the street and b) when she feels I've been a little un-necessarily hard on her.
She will tolerate the occasional grumpy reaction from me, and will accept that sometimes she does things that she knows she shouldn't, but she's not into being used as someone to blame.  I've come to respect her for this.  So we have an agreement, I give her hugs every day, feed her, train her so that she knows what's expected of her, take her to wide open spaces (preferably involving water) where she can stretch out and run several times a week, and basically treat her kindly but firmly as every good head-of -the-pack dog-owner should.  And in turn, she sticks around, remains healthy, happy, and is kind and tolerant to my toddler son when he inflicts discomfort on numerous parts of her body.  She brings a distinct flavour of lightness and joy to our lives.  Yes, having Maia around is one of the true blessings that I live with.
Today, when I burst into tears at a sad movie, she leapt up and came and lay her head on my lap, gazing up into my eyes.  It was like she said:
"Gasp!  You're crying!  I'm right here, everything's going to be OK, I've got all day so take all the time you need."
There she remained for a good hour, maintaining a good, sincere look of compassion.  What a good dog.
Maia was raised in a similar fashion as my son – attachment style.  While he's always slept with us, she's always slept in the same room as us (in fact the whole family used to sleep in one room – cat, dog, Mum, Dad and baby – it felt so safe and secure and Marae like).  Both the child and the dog have thrived in unexpected ways as a result.  My son is gentle and happy and very, very healthy.  Maia is gentle, responsive and loving.  Though with Maia, I soon learnt that I had to make doggy adjustments.  For example, after trying the gentle approach with dog-training, I learnt that at times, I had to be a lot firmer than I would ever be with my human baby.  Though having said that, repitition and repeated praise of the good, works well with both of them.
Because I got Maia when I was three months pregnant, and have worked from home ever since, Maia has never been left alone at home.  Subsequently she never learnt to howl or bark, as what ever she needed, I was around to sort it out.  I become quite finely attuned to Maia in the early days, sleeping lightly and waking up to let her outside when I'd hear her pacing the floor restlessly.  Even these days, she's worked out how to sit in front of me and simply look at me when she wants something.  It's like she's willing me to feed her, or pat her, or walk her … somehow I always work it out and she pants at me in a pleased kind of way.
A psychic dog listener came to our house recently to visit my flatmate.  I asked her about Maia and she said she was very good at communicating her needs.  She also said that Maia was a very sociable dog who required one on one time with more people than than simply those within her core pack, she said that Maia wanted my flat-mate to take her for some good walks and also that Maia had a lot of love to give and she (Maia) felt she was being under-utilized.  Hmm, this was interesting to hear.  Luckily I'm not a possessive dog owner – she's been on walks with numerous members of my neighborhood, and some days she gets two or even three trips to the beach with different people.   At the end of those more active days she takes herself away to the bedroom and curls up in a ball like the puppy she so recently was.
Sigh … dogs don't live that long.  I've got another decade with her at the most, best make the most of it.  Yes, I'm grateful for my slender blond friend.  She's sort of like a daughter to me, though lower maintenance.
Today's rating: 9/10
ps here's my daily report on my e-book (as promised): today I received some amazing quotes from people I've been chasing up for interviews, and did I mention that they are AMAZING quotes?  I feel excited about the depth of information I'm collating for this e-book.  I only hope that people read it!  So I've been weaving all the interviews into the text.  Yes, more progress, thanks entirely to the promise I made to keep people to up to date on this blog … every day this forces me to make the effort, where as I wouldn't have otherwise.  It's good, it's a one small step at a time process, which is the best way for me to do things.  I would like to make a little more effort tomorrow though as I wanted to have the second draft completed by this Monday.
365 Days of Fun and Chillaxation (as I raise my gorgeous son and grow my good news website to a subscription base of 100,000 people).  The Low Down on this Blog.
Check out yesterday's blog.
GD Star Rating
loading...
GD Star Rating
loading...