Home » Uncategorized
365 Days of Fun and Chillaxation – Blog#94 – Riding the Wave and Making Big Plans for Progress
Submitted by Charlotte on July 20, 2010 – 12:08 am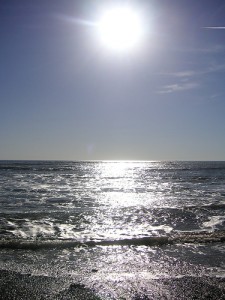 How many times can you say: 'I hung out at the beach with my son and dog and we all had a great time and relaxed and recharged and left the beach feeling filled up with energy and sand and sun' when you're writing one blog per day for 365 days?  Ok, so let it be noted that it happened again.
Now onto matters of Happyzine.  The sub-title is this blog is: 'while I raise my son and grow my good news website to a weekly subscription base of 100,000 people'.  I just don't write it every day, or more to the point: I keep forgetting.  But it's always there, the 100,000 subscribers dream.  So sometimes I set these big goals, and it takes me ten times (sometimes an understatement) as long as I expected to achieve it.  Yes … and this could be happening again, but I'm having a fantastic time playing around with the idea of what life will be like once I'm there.  What's going to happen is Happyzine will employ a team of staff who work out of the down-stairs apartment of the house I buy.  It could be based in Golden Bay or Nelson – we'll see how that wee details pans out.  And the team will manage the various aspects of Happyzine – such as web-design, editing, sponsorship, and general admin for a website that caters to at least 100,000 people per week (there will be a lot to do).  Meanwhile, upstairs my day to day living shall unfold, organic food shall be prepared, and children shall romp happily. I shall nip off to talk about the power of good news to inspire positive environmental change on TV, other media, and for groups occasionally.  I will consume a lot of locally grown fruit.  We will swim often in some form of clean, healthy water.  My dog shall have a new boy-friend dog.  Big trees will lean like tall brothers over our property.  The future will of course, be looking bright for NZ as it's become one of the sustainability centres of the world.  Hope shall reign.
So, I've added my dream to a website jam-packed and teeming with other amazing dreams called PlanBig.  I've already blogged about my excited discovery of this site and the PlanBig team liked my enthusiasm for their site so much that they made Happyzine a featured plan and now it's right there, on the front page of the site, looking all alluring and extremely possible  I've shared some great conversations with people who are encouraging me with ideas about how to reach my dream.
I would like to recommend this site to anyone who dreams big and would like to be surrounded with optimistic, far-reaching people who don't even blink when you tell them you'd like to inspire 100,000 people per week with good news about the planet (and the people).  In fact, they jump on board and start brain-storming ways to help you get there.  It would seem, that for the PlanBig team, you're success is their success.  When you reach a goal, it shows on their site. I love that they attract people with the most amazing, awe inspiring ideas, and they're willing to take a gamble with all these huge dreams.  In fact, they revere them.  I've been wanting to hang out with more people who think my big dreams are normal and I guess this is one, unexpected way of doing it!
You can help by tweeting or facebooking my inspire 100,000 people idea, and generally sharing it with as many people as possible.
Today's rating:9/10
365 Days of Fun and Chillaxation (as I raise my gorgeous son and grow my good news website to a subscription base of 100,000 people).  The Low Down on this Blog.
Check out yesterday's blog.
GD Star Rating
loading...
GD Star Rating
loading...
Tags: dreams