Home » DreamtoReality: Project Planet
First Rooftop Garden
Submitted by on July 24, 2010 – 11:12 pm
2 Comments
My dream of turning Auckland's rooftops green is one step closer to reality, with planting of the first Urban Pantry rooftop vegetable garden taking place on Monday. The lucky rooftop is on the building I secured last month, on High Street in Auckland's CBD.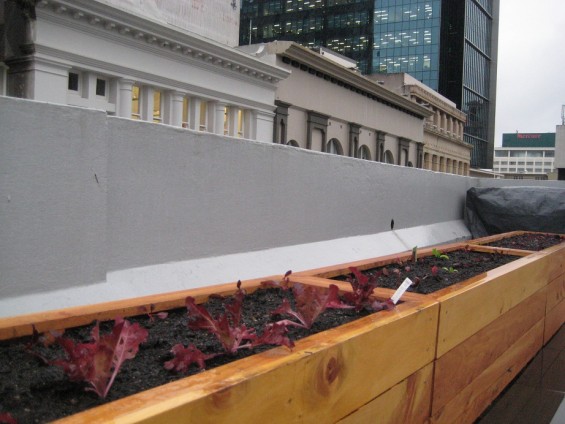 With the help of six volunteers who generously donated their time, we commandeered the building's lift to move three large macrocarpa planter boxes and twelve bags of organic veggie growing mix up to the sixth floor. The macrocarpa planter boxes were custom-built by Jaques Woodcraft.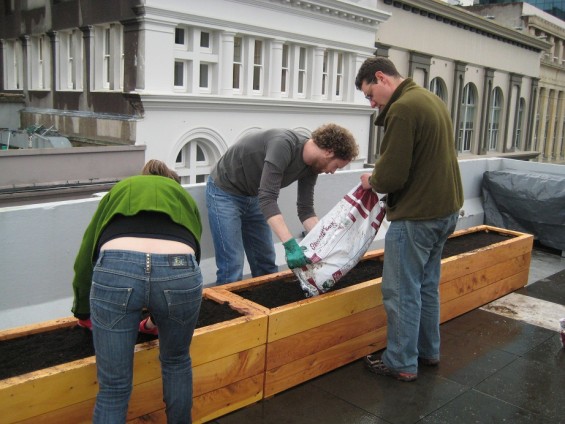 Our first crop of organic beetroot, lettuce and silver beet should be ready in about six weeks.
The garden is a showcase of what I want to do on a larger scale on other buildings. The tenant was impressed by how much nicer the garden made his outdoor space feel, and he's excited about nurturing the plants from seedlings to harvest.
A number of taller buildings overlook the garden. Hopefully some of the occupants of those buildings have noticed the new garden and been inspired to think about the potential for gardening on their building.
GD Star Rating
loading...
GD Star Rating
loading...