Home » Uncategorized
365 Days of Fun and Chillaxation – Blog#100 – Hurrah! Jeanette Fitzsimons Has Joined the Happyzine Green Energy Generation Design Team!
Submitted by Charlotte on July 25, 2010 – 7:10 pm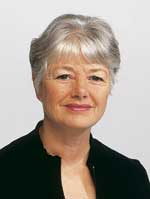 What's my more-than-cool, simply amazing news of the day?  Jeanette Fitzsimons has agreed to be a judge for our upcoming and yet to be officially announced sustainable energy design competition!  Waking up to her email was the best start to the day that any girl who is running green tinted good news website and also developing a green energy design competition could hope for! It's also an auspicious subject to be writing about on my 100th day of blogging.
Why am I so thrilled?  Because Jeanette's NZ's king and queen of sustainable energy design here in Aotearoa/New Zealand, she's also one of the darlings of green politics, having given fourteen years of her life to the Greens (and those are only the years she was officially the co-leader of the NZ Green Party).  I've been a fan of hers for years.  I'll never forget the time I tearfully and passionately wrote to her explaining my anguish at the 'lack of heart' in New Zealand politics (that was after spending some time in Parliament as an employee, where my sensitive and optimistic soul was momentarily squashed by an environment dripping with old school tradition and politics).  I was so impressed and touched when she personally wrote back and said she understood and tried to explain that things were as they were and it would take time to change the system from within.  She really cared. Despite feeling so disappointed at the time by the tough hide that anyone had to adopt to survive as an MP, my respect for her continued to grow.  It's a huge challenge to remain open-hearted and maintain a sustainable life-style as an MP within the Beehive (a culture that originated in the UK parliament hundreds of years ago).
Aside from her political years, here's the wiki low down on her career "Before being elected to Parliament, Fitzsimons was a lecturer in environmental studies at the University of Auckland. She was also highly active in various environmental organizations such as the New Zealand Biological Producers' Council, the Campaign Climate for Change (which she founded), and the Environmental Council. She also worked as an environmental consultant to many local authorities."
I'm so excited.  Jeanette brings an expertise and a passion for this subject that will raise the calibre of the competition.  We now have a panel of highly skilled judges and MPs to tell the world about.  This is brilliant.  Now all we have to do is launch it! More info about Wild Energy coming soon.
Today's rating 10/10
365 Days of Fun and Chillaxation (as I raise my gorgeous son and grow my good news website to a subscription base of 100,000 people).  The Low Down on this Blog.
Check out yesterday's blog.
GD Star Rating
loading...
GD Star Rating
loading...
365 Days of Fun and Chillaxation – Blog#100 - Hurrah! Jeanette Fitzsimons Has Joined the Happyzine Green Energy Generation Design Team!

,
Tags: dreams, good news, green, sustainable design