Home » Uncategorized
Wide, Deep Vegetable Beds – By Suzi Franks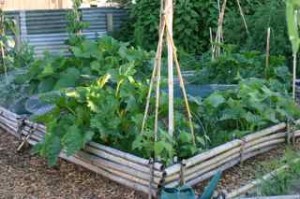 Picture if you will a vegetable garden bed brimming with lush, tender produce. Beautiful, even in your imagination isn't it?
But, what if I told you that this picture could be your reality come late spring through until the next spring and the next and the next…my secret to this kind of success is wide deep beds and a succession planting plan which can and will produce enough vegetables to feed you and your family and then some!



I Don't Have the Room for a Vegetable Garden

YES, you DO!
What ever space you have, even the smallest of areas can be developed to grow plants and accommodate the kids, if you so desire. And, lets be honest, desire is the key here, if you are not interested then it's really not going to happen and you'll be fighting it every step of the way.  On the other hand, if you have the desire to be able to harvest your own food, and can picture yourself after a hard stressful day, coming home shedding the work clothes for the home clothes then grabbing your scissors and walking outside to gather vegetables for your evening meal then it's definitely worth finding that small area that you can dedicate to you and your vision. It's really amazing the effect it will have on you, one money cannot buy!
If you have to share your 'outside living' area with the rigors of children or pets, it's best to locate and dedicate this small area, 1.2m x 30cm wide or an arms length wide, towards the back of a section with maybe a boundary wall along on side. This will be a 'no go' area and therefore safe enough to prepare for planting your garden of Eden.
What is a Wide Deep Bed?
In it's basic form, a wide bed is one which you can comfortably lean over without putting a foot on the soil to reach the front, middle and back. Making the bed too wide and you will struggle to reach the vegetables at the back of the bed and when you step on the soil you compact it destroying the delicate micro life underneath an unproductive end result.
A wide deep bed allows the vegetables to have the lions share of the soil and leave the gardener just enough for a path beside it. The length of the bed really depends upon the space available, but one thing the 'experts' have found that what the 'eye' can comfortable accommodate and finds 'workable' without being overwhelming is lengths of 15 feet/ 4.6m.
Why do they work so well
The wide deep bed is more growing space and less work, a definate plus on all sides. But it's the vegetables that really shine from this more soil advantage, they can literally spread their roots and grow much more extensive roots systems as a result and this is the key to success.
Providing a wide bed, say 1.2m x 30cm  with deep humus rich fertile soil can provide and overall growing area of .14m³  per row, now this may sound gobble gook to you but roughly translated it means an individual vegetable has EIGHT times more space in which to spread it's wings than in a traditional narrow shallow bed.
Wide, deep beds are also much less work intensive. Provide a thick mulch and intercrop your vegetables a bit closer than you normally would and you will be amazed at the weed suppression, moisture conservation and general overall snugness of the whole bed. This means less time on your hands and knees weeding and more time on your feet enjoying the fruits of your labour.
Another invaluable, often unspoken advantage of a wider bed system is that the soil is contained on the bed by a small 'wall' system. This little wall prevents the top soil from running off into the paths during wet weather, and this alone contributes to less fertiliser being needed with more top soil being made and retained. Over the seasons this pays dividends by extending the depth of your fertile top soil layer.
Ten 'FREE' Starting Out Guides
I could go on (and usually do:)) but space is limited, but I have a beautiful series of 'Starting Out' guides: Plan It! & Dig It! which I have covered designing your own vegetable plot and how to prepare new ground.
I would like to give TEN copies away to those of you that would like to know more about how to get the most out of your plot. Please e-mail: suzi@2womenon2acres.com and tell me why you would like a copy of each of these guides.
Has this quick over view of wide, deep vegetable beds been useful to you? Please e-mail me your comments and own tips and tricks of getting the most out of a small area, I would like to hear you views.
About Suzi Franks
I live in beautiful New Zealand on a 2 acre piece of paradise. I have hand built my extensive Kitchen Garden using bamboo for the raised beds that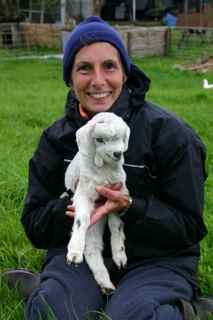 have replaced one of the paddocks. We are nearly self sufficient in all our vegetable needs, growing every conceivable type of vegetable I can find. In fact, I think I am addicted to collecting heirloom seeds:)
I grow heirloom vegetables, heritage fruit and nut trees and rare native plants, and use organic principles with permaculture thrown in for good measure!! I have researched organic gardening for the last 4 years and searched high and low for my precious heirloom vegatable seeds and heritage trees.
I would like to share my knowledge and organic research findings with everyone, because I believe now is the time to get growing your own food and re-empower yourselves against the economic climate that we live in. I can guarantee that once you taste your own produce, hybrid or heirloom, you will wonder how ever we got to the tasteless offerings in the supermarket…
I have a dream: Our 2 acre piece of paradise will have an Earthship house, be self sufficient in terms of energy and food. We will use solar and wind power for energy and everything we aim to grow will either fed us or our growing number of animals:)
I also have a web site which is a cross between the tales of our experiences and a portal in which I can share my knowledge and experience of organic gardening and growing heirloom vegetables and heritage trees.
That's me, clean green and simple:)
GD Star Rating
loading...
GD Star Rating
loading...
Tags: Environment, Gardening