Home » Arts
Letter to Happyzine from Hannah of Golden Bay
Submitted by on August 12, 2010 – 10:09 pm
2 Comments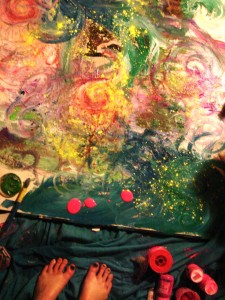 Dear Happyzine,
It has been a while since we have spoken, and although I am feeling somewhat neglectful it has at least spurred me into writing again. How are you my sweet? I see you have been busy, how popular you are getting!
I wanted to tell you about something wonderful that has happened to me. After a long break, I have found creative inspiration again!!! How lovely and exciting, how energising and uplifting; would you agree? Though my writing has fallen by the wayside of late, I did happen to help organise a poetry night at a local cafe recently at which I stood in front of many friends and bared my soul through my words. The pulsing buzz that resulted in my heart and my body reinforced to me the absolute joy I receive from creativity, my own and others'.
Listening to friends and unknowns read aloud their literary creations filled up this gap inside me with total glee. One friend, after reading his poem asked us all if he could 'freestyle' for a bit. Yes! we cried, and he set about beat-boxing and creating sounds with his mouth and his body. I felt such an explosion of love for this community I live in, for we celebrate ALL forms of creativity here, revelling in one another's freedom of expression.
Once reaching home, I could not stop babbling and bubbling to my beloved about poetry, about creativity, about ideas and ways in which to realise them.
Then, a week or so later, late at night, my man and I got out the paints. We found an old sign in his shed, nearly as tall as me, and set about creating a space in which to create…a space.  What started out white ended in a blaze of colour and texture, mixtures of liquid and powder paints, images stuck down and painted over, hands and feet and clothes awash in colour.
Daylight came so quickly, quell surprise! Bodies tired and sore from floor-sitting, crouching, kneeling, reaching…paintbrushes in hands like wands. Oh love! I cried, Look what we have made! Destined to shine from the wall, it is like a beacon in the darkness guiding me back to myself.
And so.
And so my days continue rolling, buds forming like tiny petal-tipped promises on the empty trees – small reminders of the seasons to come. But winter has treated me so gently, forming a cocoon around me of warm expression and always, ever, inspiration.
Lovely to be back in touch,
Hannah Campbell
GD Star Rating
loading...
GD Star Rating
loading...
Tags: Emotional sustainability