Home » Uncategorized
365 Days of Fun and Chillaxation – Blog#123 – Zumba: One Good Reason to Girate Merrily in Public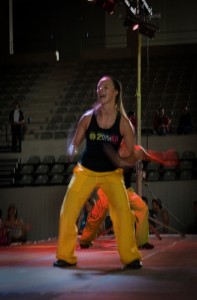 It was the last thing I ever thought I'd do.  I'd seen the infomercials on TV and was not the least bit attracted to it (well, Ok, maybe a little).  But, you know how it goes, you declare you'll never do it and eventually you find yourself thrusting merrily along side seventy other people in an old country hall.
So tonight, thanks to Sybille Feint, Zumba showed it's bronzed, fit, smiling face in Golden Bay.  In fact Zumba hit Golden Bay will the full-force of a Latin dance party minus the tequila. And the people rose to the occasion.  Kiwi give-it-a-go style.
I turned up out of loyalty to my friend Sybille, expecting twenty to thirty people.  The cars kept coming and eventually the hall filled up.
And so we were subjected to a night of jiggling, thrusting and waving our arms flamboyantly.  I had a ball.  The giggling, how could you not giggle whilst stumbling about trying to keep up with such sexy, complex, salsa moves?  I mean what else is there to do?  I could have collapsed and shook my head, but I'm not a quitter.  Oh no, I'm now a Zumba student.
I was totally unprepared, I hadn't even intended to dance tonight because I'd ended up having to take my toddler son along.  But the energy of an excited crowd beckoned, and Kahu decided to get all independent on me and run off with his new found friends, so once I heard the music ringing joyfully through the hall, no, through our SOULS, my body decided to join in and loosen up it's torso.
Speaking of the torso, it was a surreal experience standing in that hall moving my lower abdomen around in circles first slowly and then with wild abandon.  If I was to do this out on the street, people would laugh.  Or give me a lot of space.  Or ensure that they were safe.  But tonight in that hall, I'm sure many a cob-web was cleared from our generally un-gyrated (in public) Kiwi torsos.
Of course, here in Golden Bay we had a fantastic combination of people turn up – older women wearing make-up and taking it very seriously, barefooted skirt wearing mums who seemed to dance rather than exercise, a few eager men, then there were the gloriously toned aerobics buffs, and young girls who had bought the video and knew all the moves.  We were an eclectic bunch and we joined forces tonight to exercise joyfully.  Now my body's feeling a little stiff and confused, it's used to running in a straight line, not getting all jiggly and twirly.  It's as if it's saying 'OK, what did you do this time'?  Oh well, this was my attempt to explain it, to explain the new world-wide Zumba exercise craze, and if it doesn't quite make sense, just watch the TV infomercials.
Today's rating: 10/10
365 Days of Fun and Chillaxation (as I raise my gorgeous son and grow my good news website to a subscription base of 100,000 people).  The Low Down on this Blog.
Check out yesterday's blog.
Would you like to pre-order Charlotte's soon to be released e-book 'Ten Ways to Have Fun and Chillax As You Contribute to the Green Generation'? Email charlotte@happyzine.co.nz
GD Star Rating
loading...
GD Star Rating
loading...