Home » Events
Frocktober 2010
Submitted by Charlotte on August 19, 2010 – 9:20 pm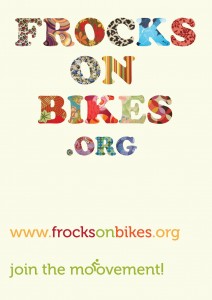 Hello Frocks on Bikes Flocks!
We are very excited about Frocktober 2010.  We are also aware that it is fast approaching!  Here in Wellington, we are in the process of planning a ride and event.  We would like to begin to understand what exciting rides and events will happen, in concert, around the country on October 16th and on any other days in October.
The event planned for Wellington includes a short social ride along the waterfront to an indoor location for a bicycling fashion parade. We plan to showcase some of Wellington's best fashion designers modeled on beautiful bikes. We also plan to showcase vintage fashion ensembles from Wellington's leading vintage fashion houses. We are hoping to arrange a supply of coffee, and a collection of retro and modern commuter bikes to view.   We are aware that other flocks have had fashion events – if you have any tips please pass them on!
We would like to start promoting Frocktober – and are thinking along these lines:
Frocks On Bikes is planning a nationwide spring spectacular in our very own month – Frocktober!  We'll be celebrating spring, cycle style, fun, liberty and fabulosity right around New Zealand.  On Saturday October 16th 2010 flocks of Frocks on Bikes will simultaneously celebrate in multiple cities and towns including Wellington, Auckland, Christchurch, Rotorua, Nelson, New Plymouth and Napier/Hastings. The main event of the day will be a high profile social ride a follow-up localised celebration such as a frock-nik or a fashion show on bikes!
We would be grateful if you could get back to us in the next week to let us know what is brewing in your region. We will seek more formal information and event details in the next month or so for the purpose of national coordination and promotion.
Happy Frocking!
Leah Murphy
For Frocks on Bikes Wellington
0274 398 145
GD Star Rating
loading...
GD Star Rating
loading...
Tags: cycling