Home » Uncategorized
365 Days of Fun and Chillaxation – Blog#126 – Generosity and Toilets – Hand in Hand.
Submitted by Charlotte on August 22, 2010 – 6:36 pm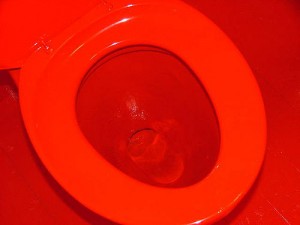 Remember the day, oh such a sweet, sweet day, when you could use the toilets out the back of shops if you were in serious need?  I fondly recall a time when you just took it for granted, and also, if you needed a glass of water, you could have that for free too.  Yes, those were the days of friendly open shop-keepers, of jandals and Adidas knicker shorts, of safe hitch-hiking and of drink bottle sharing.  My friends, those were the days of trust.
The good news is that today I witnessed it.  It had been a few years, so it took me by surprise, but I caught it all the same.  The scent of generosity hung sweet and heady in the air, yet the shop-keeper just carried on, all relaxed and steady, as if she hadn't just wound the clock back ten years and committed the ultimate act of kindness.
Here's what it happened:
"Hey Gina, can my boy borrow your toilet, we're kind of in a hurry if you know what I mean."
"Oh sure, it's out the back, just go through the kitchen and take a right past the sink."
I looked at Gina (whose name has been changed, not for privacy reasons, but because I can't remember it). She was rolling me an ice-cream and appeared relaxed and calm.  She said,
"You know how it is with kids, when they've gotta go, they've gotta go."
I looked at her with widened eyes.  Admiration coursed through my system, closely followed by relief.  So it did still happen!  People in shops still trusted customers.  I took my ice-cream (huge) and headed out, charmed.
Today's rating; 10/10
365 Days of Fun and Chillaxation (as I raise my gorgeous son and grow my good news website to a subscription base of 100,000 people).  The Low Down on this Blog.
Check out yesterday's blog.
GD Star Rating
loading...
GD Star Rating
loading...
Tags: kindness