Home » Community
Five Good Reasons to Get Out of Bed in the Week-End to go to the Growers Market
by Claire Chateau
Like me, you are probably an expert at finding reasons why you are not going to make it to the early local growers market at the week-end. Busy week at work ("all the meetings"), another late night ("we just HAD to catch up, it had been a long time"),  the poor weather ("too bad it's raining" or "winter is not for me"), the early start ("I am not a morning person").
However, the positive impact an early jump out of bed will have on yourself and your household is huge!!!
- We all know that local markets abound with organic spray free products which are beneficial to your health. Feel good about yourself by feeding your family free range farm eggs and organically grown mandarins.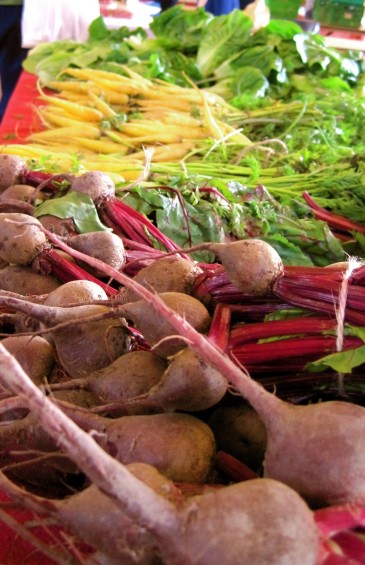 - Your purse will benefit as well as you'll find that most of the products are much cheaper than in the supermarket. $50 will feed a family of 4 with fruit and veggies for the week. This budget-wise attitude will get you positive feedback from your partner….
- You'll lessen your impact on the environment by buying from and helping local producers…spend some time to discuss their products with them. You'll meet some passionate people with amazing life stories.
- Make the trip to the market a family bonding and educational time. First gather your strength together to leave the warm house early, then discuss each others favourite type of apples…drop every now and then some comments about factory farming and why we can't support it, let each child pick their favourite fruit then share them around a lively brunch and make family plans together for the day.
- Moreover, going there will make you happy! You'll feel great about yourself for being eco-conscious (buying local but also for having brought your own bags and refusing any plastic one offered!), you'll get to catch up with the local figures ( especially interesting when about to elect your local representatives) , buy fund-raising tickets to support your neighbours's daughters netball trip. You're contributing to your community and getting a great sense of belonging.
so…setting  the alarm for next week-end??
GD Star Rating
loading...
GD Star Rating
loading...
Five Good Reasons to Get Out of Bed in the Week-End to go to the Growers Market

,
Tags: farmer's markets, Food, green