Home » Food
An Ode to Eatright Foods (Slow Dried anyone?)
Submitted by Charlotte on September 28, 2010 – 3:43 pm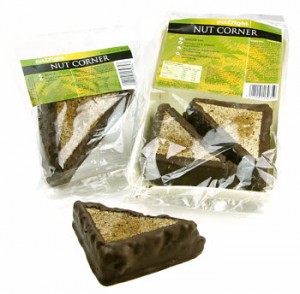 Something I've been meaning to write about for a while are a few goodies from the new Eatright Food slow dried range.  For those who haven't discoverd them, Eatright are big into natural, mostly certified organic, snack-foods.  Many of their products are wheat or dairy free, so even the most sensitive of us can enjoy a wee treat.
They recently sent me a few morsels to try – namely their new seeded crackers and their dried apple.  Very yummy.  I've been a fan of Eatright foods for years, first trying their Nut Corners (have you tried one of these?!!!) in the Golden Bay Organc shop and from there it was a slippery slope!  Here's the Nut Corner blurb – which makes them even yummier:
"Nut Corner
Watch out! You can get addicted to this triangle: a crisp almond flavoured short pastry topped with a blend of spray free walnuts and certified organic spices, folded in a meringue and coated with dark chocolate. The secret of the Nut Corner is the crunchy outside and smooth, soft inside".
But back to this new slow dry range.  I like it because they're seeking to retain the goodness, flavours and moisture content, so the food is still  full of goodness (nice to find food with actual goodness in shops). I'd say this new range will be good for parents who want to stock up on healthy, wholesome snacks for their kids, or just for people who prefer to eat organic and want to avoid wheat and dairy.
My son adored the mega tasty dried apple, he couldn't get enough.  though I gave them up for his enjoyment, I rather liked them too.  They were surprisingly tasty.
The crackers are loaded with goodness, I could tell from the way my body responded to them.  Though they're not the kind of crackers I would usually eat (I like a bit of saltiness, even it it's just from seaweed), I think these will be a hit with those people who are keen to eat foods that contain good hits of protein, vegan style.  I had them plain but I think they'd be good with some kind of nut butter, or humus on top.  Actually I've just seen on the Eatright website that they're called called 'Super Seeded Crackers'.  Here's the guff on them, looks pretty cool-icious:
"Super-Seeded Cracker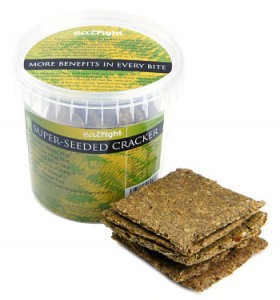 This is a super special cracker as we have sprouted the seeds and used low-slow baking principals…so although we can't call it "raw" just yet we have made it using those principals and philosophies as much as we can.
The Super-Seeded Cracker is also:
Gluten and wheat free, Dairy free, soy free, egg free, no added oil or salt, good source of protein, source of omega 3, contains fibre and is very low in sodium, nut and peanut free and is certified organic."
So there you have it.  Give them a go sometime and let me know what you think.
You can find their website here.
GD Star Rating
loading...
GD Star Rating
loading...
Tags: Food