Home » Environment
More Ways to Get from A to B Greenly
I can't seem to get my mind off the subject of transport recently. You might be getting sick of hearing about it, but just in case you missed the news, Len Brown is the new mayor of Auckland and he's promised some pretty speedy progress on public transport improvements in our biggest of big smokes. Good on him. Another ray of local election sunshine dawned this week when Celia Wade-Brown won Wellington's protracted mayoral race. As a Green party member, well known local commuter cyclist and walking advocate, we know exactly where she stands on transport initiatives.
The election of these two mayors is the best news in a very long time for progressive clean green cities both for residents and for the international rep of NZ Inc. All the more important with the release of a paper from parliament about future oil price shocks biting hard here in NZ.
Last weekend I took part in and visited a few of the actions taking place for 10:10:10, the global climate change day of action. At the Big Bike Fix Up in Auckland's viaduct I encountered two extremes of bicycle technology. Firstly, my colleagues and I bumped into a very chuffed Rod Oram, the first NZ owner of a YikeBike, the futuristic electric folding bicycle. Carrying the rider in a car-seat sort of position this zippy carbon fibre machine weights only 9 kilos, has nifty little glowing handles to make it go and a suitable space-aged whizzing noise – it's the pinnacle of bike evolution. Contrast that with a machine I actually got to take for a spin; a 1954 Swiss Army bicycle, complete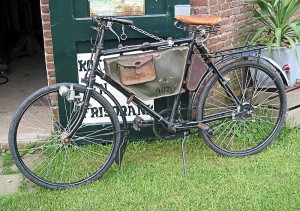 with original leather map satchels strapped to its ample matt black frame. With a single gear, a rod operated front "spoon brake" and bottle dynamo headlight the technology may not have been new but it was certainly a novelty to me. And she was sweet to ride too – at least on the flat. These bikes were exceedingly practical and well engineered in their day, but with a weight of between 20 – 24kg the vintage style factor would lose out to practicality for me as a commuter in Wellington, with about a 200m to climb each way to and from work.
As the new mayors of some of our biggest cities are set to grapple with the cost benefits of varied forms of mass transit (light rail in Wellington, a proper underground metro system for Auckland)  I reckon they should give some time to considering this invention – the Shweeb.
How to describe this? It's a peddle-powered suspended monorail pod. If you know what a recumbent bicycle looks like, take its wheels off and suspend it from a monorail, leaving it swinging in space but keep peddling because that's what powers you along the rail.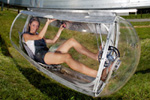 Sounds neat eh? The only current  prototype is part of the thrill seeking rides at Agrodome -  Rotorua's agricultural adventure park (only in New Zealand!). But Google have just announced a US$1million investment into building the first commuter version as part of a competition to "drive innovation in public transport". The location of the first public test model is up for grabs worldwide.
Bring on the inter-city rivalry I say! Who will be first in the world to showcase the Shweeb at the cutting edge of international commuter culture? Will it be Wellington? It may be the perfect solution in the windy city with notoriously little cycle space on narrow roads – with your hairstyle protected by the acrylic bubble (no helmet needed by the way) you are free to exert your energy on smooth over head rails far above the dangerous traffic below. Or will it be Auckland? Be insulated from the traffic fumes during the daily commute – the bubbles could contain an air filter. They could run under the Auckland harbour bridge – no need for expensive extra clip-ons for those pesky walkers and cyclists who insist on getting across sans-vehicle.
Think of the possibilities – with the  simple addition of extra baggage capsules (perhaps towed like a row a ducklings) tourists could arrive in Wellington and Shweeb in from the airport – its only 5km. And I'll bet the system looks a lot more affordable than the $20-odd-million per kilometre the previous mayor was quoting for light rail.
In a compact city like ours this is exactly the innovation that could work – its not only practical like the Swiss army bike, but it is novel and futuristic like the Yike, without the prohibitive price tag. It's a practical novelty that would give us a genuine point of difference – and  genuine progress towards the city's carbon neutral goal.
I think I've just talked myself into a visit to the Agrodome on my next road trip north for some first hand experience of Shweebing!
GD Star Rating
loading...
GD Star Rating
loading...
Tags: green design, transport