Home » Community
THE KIWI DIARY 2011: Keeping It Real, One Day At a Time.
Submitted by Charlotte on October 20, 2010 – 2:11 pm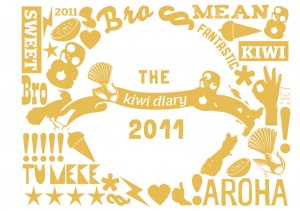 THE KIWI DIARY 2011: Keeping it real, one day at a time.
They' ve done it again! The Kiwi Diary 2011 – edition seven, is coming soon to your nearest boutique bookshop, gallery and gift store. With ample space to plan your life throughout 2011, The Kiwi Diary is a window into the thriving flatwarming of Kiwi culture. The diary is full colour, and is designed to celebrate Kiwi culture, showcasing artists, writers, poets and more. The concept of the diary has been pimped up to create a new breed of diary. Artfully adorned pages are filled with delicious Kiwi recipes, Te Reo, famous Kiwi quotes and historic moments, tips on sustainable living and thought-provoking articles. With all these elements blended sweetly, KD 2011 is dangerously addictive – delivering discerning mindfood that will
keep you so inspired you' ll never want to go back to that blank-paged ordinary diary again.
It's about talent…With over 90 contributors from North Cape to Bluff, each page inspires a smile, memory or new idea. Notable 2011
contributors include: Gordon Clarke, Jonathon Crayford, Mike Davison, Alex DiMercurio, Carla and Gottleib-Braun Elwert, FLOX, Jesse Gubb, Ian Hamlin, Shane Hansen, Evan Heasman, Gaz Jarman, Ira Mitchell-Kirk, Anna Livesay, Emma Miazga, Greta Menzies, Selwyn Nogood, Natalie Panzer, Vanessa Parker, Andy Reisinger, Lillie Toogood and Ans Westra.

It's about the inspiration cycle…Director/Designer Freda Wells views the diary as a vehicle for reflection, debate and banter. She notes: " I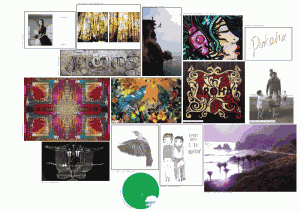 feel like it has grown over the years as a mirror for the many facets of Kiwi culture. We' re interested in the question, what does it mean to be Kiwi? As a nation we' re still figuring out our identity, and I' m always keen for sociological debate to keep us on our toes and keep us honest."
Wells says her 'Kiwi Diary litmus test' when researching content and contributors is simple: anyone who is passionate about what they do, and who does something that will leave NZ better for the next generation. She says, " We' re all making a difference, the question really is, is it the difference you want to be making?"
It's about history and loyalty…It all began as an idea: born at Te Onetahua, Farewell Spit, back in Easter 2004. Surrounded by the beauty of the landscape on the wild coast, Annabel Wilson was inspired to create something distinctive that reflected New Zealand' s unique art, culture, environment and heritage.
Wilson approached friend Freda Wells about the idea, and the creative duo decided to work together to turn the idea into reality, involving months of research at NZ Archives, writing, and design, whilst both worked full-time jobs. Since then the network of contributors has  blossomed, as like-minded people recognize and identify with the essence of the diary and are keen to be involved. The Kiwi Diary has
become an anticipated annual must-have for those who keep a finger on the pulse of Kiwi culture.
It's about being green…Marketing Director Annabel Wilson says " We are pretty staunch about sticking to our eco-friendly format. A lot of our content has a green focus, we' re proudly 100% NZ Made, using recycled paper, of course!" Loved by New Zealanders at home and abroad, The Kiwi Diary is a solid, spiral-bound 240-page diary, printed locally with vegetable-based inks on Forestry-Stewardship certified (FSC) paper. The KD crew walk their talk, donating a percentage of profits each year to a conservation project in Aotearoa. Initiatives supported to date include: Oxfam, Greenpeace, Wetlands Trust, Dunes Restoration Trust and Pablos Arts Trust.
It's a great gift…The perfect present (just in time for Christmas!), The Kiwi Diary 2011 is a unique, functional and plucky publication that will nourish mind and soul throughout 2011. Keep Aotearoa close to your heart with this piece of top-shelf Kiwi culture.
See www.thekiwidiary.co.nz for further information and a full list of stockists.
The Kiwi Diary 2011 is supported by the following generous sponsors: Hikurangi Trust, Iko Iko, Starfish, NZ Film Archive, www.felt.co.nz, Clever Bastards, The Travelling Photo Booth, Paraoa Bakery, Flight Coffee and Memphis Belle Coffee House.
GD Star Rating
loading...
GD Star Rating
loading...
THE KIWI DIARY 2011: Keeping It Real, One Day At a Time.

,
Tags: kiwi diary