Home » Uncategorized
365 Days of Fun and Chillaxation – Blog#184 – The Science of Sound-Checks
Submitted by Charlotte on October 23, 2010 – 6:31 pm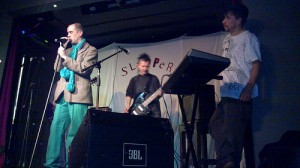 Today I went to Nelson's Granary and hung out watching a band sound check.  We ate gorgeous chocolate brownie and lemon shortbread and exulted in the decadence and excitement of being in a beautifully decked out Art Festival venue pre-gig.
As a musician myself who has enjoyed a few years of gigging, I love watching other performers at their sound checks.   I love watching the way each person tunes  up, plugs in, gets the levels right and generally settles into the new venue.  I like watching them talk to each other, and seeing them in that special pre-gig state where they're partly themselves, but also beginning to up their energy for their performance.  They're  starting to shed the day-to-day persona in favour of that other aspect of themselves who stands up on stage throwing out soulful magic for the people.  They're preparing to weave life changing magic.
The thing about pre-gig nerves is they're all part of the performance.  All that energy arrives to help you deliver a great performance.  If it didn't, you wouldn't shine on stage.
If you didn't have all that build up, you wouldn't throw out that extra special charisma during your performance.  Historically, many have taken to the bottle or various other concoctions in an effort to deal with this influx of energy.  It can be pretty freaky if you're not prepared for it.  I tried using alcohol to deal with nerves (and a cough) once and did an entire gig riding the drunken wave of whiskey.  But I listened to a recording of that performance afterwards and just cringed.  I could hear myself slurring.  Never again.  I was not doing myself justice.  So I had to learn how to let the enormous energy stores that built up in me pre-gig, move out fluidly during my performances.
For me the same happens thing on the other side side of a gig.  I can take days or even weeks to return to normal.  Generally this means I have absolutely no qualms about how I come across to groups of people.  It's quite good actually.  I've observed myself being extremely out spoken and finally telling funny jokes to groups (not usually a strength of mine) in my post-gig phase.  Someone once told me I truly open up and shine when I'm on stage, it's the place I come alive.  Who knows.  I do love it.
So sitting there today, whilst our children galloped joyously around the large room running off the sugar highs, was a special and rare opportunity for me to enjoy a sound-check, rather than be in one.  It's nice to be in the audience sometimes.
Today's rating 9/10
365 Days of Fun and Chillaxation (as I raise my gorgeous son and grow my good news website to a subscription base of 100,000 people).  The Low Down on this Blog.
Check out yesterday's blog.
GD Star Rating
loading...
GD Star Rating
loading...
Tags: Music