Home » Uncategorized
365 Days of Fun and Chillaxation – Blog#192 – Charlotte's Music Revival Continues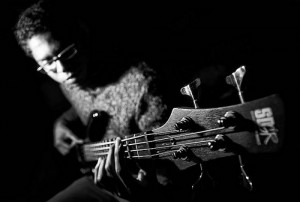 Come with me to band practice!
We'll head to Anna's place.  She's got this great stucko, white washed fifties home with a huge, yes ENORMOUS lawn that she intends to turn into a full scale permaculture park.  We'll tie up Maia (my Golden Retriever) who is rather too excited to be let loose around Anna's house, and lug my guitar into a comfy living room that's strewn with recently folded washing.
Ok, so you sit down and become our virtual audience.  Here, take this virtual cup of tea. Mmm, it's liquorish.  I hope you like liquorish?
Anna's been practicing my songs and she's beginning to play that bass guitar like a pro – including adopting that lazy, cool look that is distinct to the bass player. As for me, I still feel like I'm revisiting a previous life.  My voice is coming out a little shy.  Some moments I'm delighting in singing out nice and loud while others I'm a little stuck in the throat.  I have to sing with my eyes shut as all my concentration's going into remembering how to strum and sing at the same time.
Anna's children will join you on the couch and say nice things about my voice, which is just what I need to hear right now.  How you doing there?  Comfy?
Here, we'll sing you the song we're best at – it's called 'Hey You!'  I wrote it when I was in my feisty greenie stage.  It's a rock song and I wrote it to all the rich people who were buying up land in Golden Bay and who didn't appear to be lavishing much love upon our community.
"Hey you, with you strong overseas dollar!
Hey you, with your white down turned collar!"  I holler.
"Welcome to my community, welcome to my home,
that's right this is community, this is a family zone!"
And so the song continues.  I'm not as angry any more, still, the song's fun to play cause it's fast with a strong rhythm and I know it well, plus it feels a little bit naughty.
Have you ever picked up a guitar after not playing it for years? Or gotten back into a sport or hobby that you were once experienced and confident with and now feel totally novice at? Yep, that's me.  But the old excitement is there.  I'm already scaring Anna by suggesting we consider playing at Womad (with the assumption that they'll snap us up, our yet to be created band).  Yes, now we're gathering a band.  We're going to form a green dance band.  Just give us two months to prepare.  Hee hee.  I'm looking forward to having some fun!
Did I mention I've missed music?
Ok, so we'll play you a few more numbers – there's one called Variable Oyster Catcher (written just after my Dad died and we went on a mission down the west coast of the South Island) and another called 'Do You Like Goat's Milk?' after I did indeed milk a goat.  There's another called 'One Mother of  a Storm' that was written to encourage people to keep going despite the natural disaster they've just experienced, and another called 'Her Waters Ran Clean' which is a fun, positive affirming song about our gorgeous country and its precious water.
Music is, like totally, feeding my soul.
See you at our first gig.
Today's rating 10/10
365 Days of Fun and Chillaxation (as I raise my gorgeous son and grow my good news website to a subscription base of 100,000 people).  The Low Down on this Blog.
Check out yesterday's blog.
GD Star Rating
loading...
GD Star Rating
loading...
Tags: Music