Home » Gardening
Growing UP and Upside Down in the Garden!
Submitted by Charlotte on October 31, 2010 – 5:30 pm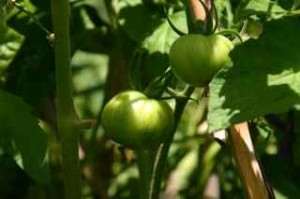 By Suzi Franks
WHOO HOO!! What a FANTASTIC Week I have had here in paradise – a beautiful week of glorious weather and I have been busy clearing the winter clutter to make way for the new growing season:)
Talking of growing, did you realize that you can grow your vegetables up towards the sky or (upside) down towards the ground?? This is a super fun way of utilizing alternative growing ideas and a great way to go if your space is limited, but hang on – its a great way to grow even if space is not an issue!! It will get the neighbour's peeking over your fence for sure:)
Growing UP?
A vertical vegetable garden is SO easy to create. You can let your imagination run riot,  using shelves, hanging baskets, or trellises. AND, here is the good part, you can easily produce the same amount of fresh vegetables as a 'ground' based garden, without taking up excess space.
If you live in an area surrounded by other buildings, balcony or patio may be shaded most of the time; therefore, you should choose your plants accordingly. Leafy vegetables like lettuce, cabbage, and greens do well with limited sunlight, making good choices for shady areas.
If you are blessed with an abundance of sunshine, especially owning the whole backyard and the large outdoor storage space, your selection of plants will be greater, as vegetables thrive best in full sun.
Vertical Gardening Utilizes:
Containers: Nearly any type of container can be used for growing vegetable plants. Old washtubs, wooden crates, gallon-sized coffee cans, used hessian coffee bags (ask at your local coffee roasters) and even five-gallon buckets can be implemented for growing crops as long as they provide adequate drainage
Hanging Baskets: Hanging baskets can be placed wherever space allows on the balcony or on suitable hangers. The baskets can accommodate many types of vegetables, especially vining or trailing vegetables.
Trellises: A trellis can be used for the support of plants too, think beans and tomatoes, even trailing or vine crops. A fence can also serve as a trellis but also think outside the square, consider things like a stepladder as a makeshift trellis to support vine-growing plants like pumpkins, squash, and cucumbers – the rungs of the ladder can be used to train the vines while placing the vegetables on its steps!!
Shelving: Shelves allow you the benefit of growing different types of vegetables on each shelf, make the shelving structure with tiers, this will add visual interest as well.
You can even rotate your containers so that all plants receive enough sunlight. When constructing the shelving, consider using slatted shelving as this will allow for better drainage and air circulation.
Growing (UPSIDE) DOWN?
The hanging garden is a fantastic way to grow 'vine' type vegetables is a small compact space and it will get the neighbours talking!! tomatoes are the most 'famous' upside down vegetable because they have been 'advertised' on TV in many gardening programme.
But did you know you can also grow: cucumbers, aubergines, beans, peppers and many others. the beauty of growing upside down is that you can use the 'tops' of your containers to grow smaller vegetables like lettuce and herbs.
Oh dear, once again I have run out of space:) SO much to say and so few words!! I hope you have enjoyed my article and please let me know what vegetables you grow up or down!
For more information on growing upside down please visit 'The Hanging Garden' on my website:
http://2womenon2acres.com
GD Star Rating
loading...
GD Star Rating
loading...