Home » Uncategorized
White Roofs Project Continues to Move Forward in New Zealand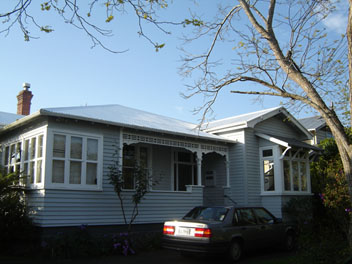 By Ian Montanjees – Founder of the White Roofs Project
Since the start of the project just a few weeks ago, the White Roofs Project has received media coverage including three radio interviews including Radio NZ, bFM, Hutt Radio, articles in the NZ Herald supplement The Aucklander, and the Gulf news, and blogs on Good magazine and Happyzine. We were also very fortunate to have received a donation of $1000. And over 100 people have had something to do with the project, each in our own ways. We also have started a facebook page under the name White Roofs Project NZ..
If the project succeeds sufficiently, then white roofs may become a symbol for people's desire for change on global warming, that might help the process along politically, with the need for action on global warming greater than ever before.
There are three roofs painted white so far with about 14 or so in the pipeline. The immediate task is to continue to build this list, giving us a base to talk with businesses and other organisations and grow the project through their added involvement.
I have gotten in touch with the White Roof Alliance in the US, includes some leading science researchers in this field. Their website is well worth a look. Part of their initiative is the 100 Cool Cities campaign.
An interesting initiative in New York, supported the mayor of the city, has now passed the one millionth sq foot of roof painted white recently in a collaboration between volunteers, the city and businesses.
Ian Montanjees
www.whiteroofs.org.nz
GD Star Rating
loading...
GD Star Rating
loading...
Tags: green design, white roofs