Home » Uncategorized
365 Days of Fun and Chillaxation – Blog 204 – HANDS Currency Cares for Kids
Submitted by Charlotte on November 14, 2010 – 2:00 pm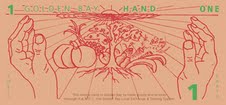 Lovely, lovely, lovely, lovely, lovely, lovely, lovely, lovely, lovely, lovely, lovely, lovely, lovely, lovely, lovely, lovely, lovely, lovely.
Yes, I know this word is about as exciting as 'nice' but that's just the way things were for me today at the first ever Young HANDS Market.
Imagine strolling into town knowing that you have your choice of two different currencies to spend.  And imagine if, of those two currencies, there was one that you felt totally comfortable spending, and totally relaxed in the knowledge that you could easily earn more of it.  And let's add to this the awareness that you had access to unlimited support when it came to trading in this currency, and in fact you felt just plain encouraged to use it because it was designed to strengthen the web of the community.
I mean.  Come on!  How cool would that be?
Imagine if Kiwi dollar system was intended to build better, stronger, closer relationships via trade meaning that all fiscal policy, all banks, all government legislation was designed to encourage active trade and thus strengthen bonds between us.
Yes my friends, this is what's happening right here in Golden Bay.  And it's not some fad.  It's not some wifty-wafty, theoretical, vaguely intended far-out-man utopia.   This system's been up and running successfully for years and it's the most popular complementary currency in New Zealand.  This currency comes with beautifully designed notes, it is beginning to attract the buy in of the most 'old school' businesses in this town, and ten percent of the population already use it.
As from this year it also has a market for young members of HANDS, which is named, unsurprisingly: the Young HANDS Market.
Kahu (my three old son) and I attended the first Young HANDS market today.  It was held it on the lawn of a local cafe beneath a feijoia tree.   When I arrived I was ravenous and so I stocked up on delectable vegetarian quiche and scrumptious oaty, chocolate cookies.  There we sat, picnic style, eating our food from our biodegradable plates and watching the going on of the Young HANDS Market.
What's the difference between a normal HANDS Market and a Young HANDS market? Well, the kids are encouraged to have their own stalls, not the grown-ups.  Though we're allowed to help.  Imagine how it would have felt when you were ten to be encouraged to run your own 'shop' and earn your very own HANDS.  I would have been overcome with excitement and I would have felt thrilled to the very core of my being each time I sold a piece of fudge (yes, that was my forte back then).  And so, today, some very proud children stood behind their tables and learned how to use HANDS (which is virtually the same as using our Kiwi currency if you have notes).
Clothes, food, toys and more were sold.  Children were given a talk about how to use HANDS and trade was officially conducted.  I chatted  with old friends and relaxed on the grass watching the throng.  Joanna Piekarski – the HANDy messenger – stood, beaming from ear to ear watching it all unfold around her. Other members of the HANDS committee – who have all put so much work into keeping HANDS running smoothly milled about too.  I deeply appreciate the work they're doing with this leading edge grass roots social network.
Today's rating: 9/10
365 Days of Fun and Chillaxation (as I raise my gorgeous son and grow my good news website to a subscription base of 100,000 people).  The Low Down on this Blog.
Check out yesterday's blog.
GD Star Rating
loading...
GD Star Rating
loading...