Home » Uncategorized
365 Days of Fun and Chillaxation – Blog 204 – Ahhhhh!!!! The eBook is Up!
Submitted by Charlotte on November 15, 2010 – 10:15 pm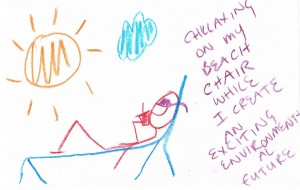 Today was a momentous one for me as I published Ten Ways to Chillax and Have Fun As You Live Your Green Dreams online.  It is now available to all the world for download.  This is immensely exciting.  This is amazing.  It is stupendously exhilarating.  Six months ago I was gazing longingly at this day wondering when I'd finally get here.  I had no idea how long it would take, or how much work it would take!  I did know I'd complete it, it was only a matter of which decade.
I am no longer an ebook virgin.
It wasn't until I got the ebook up on ejunkie.com (which is the automated way to collect payments and download ebooks and other e-products) that I felt the process of finishing the ebook was complete. Once I got it up I sat there at my desk hugging myself and attempting to pat myself on the back (as I was once advised to do by a teacher when pleased with myself).
The other awesome thing is that over the past week thirty five more people subscribed to Happyzine so we're up to 1025.  I was all excited about getting to 1000 and at some point over the past week the numbers zipped right on through the big 1000.  I said I'd have a party when this happened.  Hmmm.  I may have to have a think about how to honour this plan.  I may have even said I'd have an online party – what on could I have meant by that???
But a party shall be had.
Speaking of parties, now I have to organise some ebook launches.  I'd love to get out and about and meet a few Happyzine subscribers.
Today's rating: 10/10
PS Ahhhh!!! I just sold my first ever ebook automatically online 🙂
365 Days of Fun and Chillaxation (as I raise my gorgeous son and grow my good news website to a subscription base of 100,000 people).  The Low Down on this Blog.
Check out yesterday's blog.
Check out my NEW ebook 'Ten Ways to Have Fun and Chillax As You Live Your Green Dreams' – how to mix positive thinking with going green to achieve fantastic results (for yourself and the planet).

GD Star Rating
loading...
GD Star Rating
loading...
Tags: ebook, green dreams