Home » Food
Tahini Mania (my favourite recipes with the sesame paste)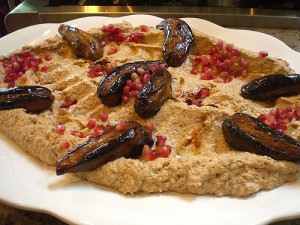 by Claire Chateau
For the past three months we have become "The Tahini Household". It all started with my friend Hannah offering to make a group order for basic organic essentials at a very low price. When she mentioned unhulled organic tahini for 8.95 a kilo, I jumped on the opportunity and asked for a "big pot of it". Three days later she turned up with a 10 kilo tahini container and I realised that, despite of my 6 years living in NZ, my english still needed improvement!
"It is okay" she said, "just talk to people, at this price everyone will want some"! Well, I gave it a go at work. My colleagues thought I wanted to drop teaching for a new "tahini-dealing" career and showed no willingness whatsoever to support my new ambition!
My children and partner, after a few days of tahini sandwiches in their lunchboxes clearly indicated that they had had enough and almost started a rebellion. I had to find a clever way to slowly getting rid of my precious treasure…so I undertook some research for cooking ideas. This is what I found:
Tahini, tahina comes from the Arabic word "tahen" which is derived of the verb to grind. It is used in numerous Egyptian and Lebanese dishes. Unhulled tahini is made by grinding the whole sesame seeds and has a very nutritional value. Tahini is a rich source of calcium, protein, methionin -which helps with the absorption of other amino-acids-, vitamins B and E and essential Fatty acids (EFA's). You can also purchase hulled tahini, which is not as bitter tasting as the unhulled type.
Tahini can be used as a dip-spread, in soups and other dishes.
WITH BREAD:
- as a dip, like in the middle-East. Dilute tahini with water; add lemon juice, garlic and parsley. Pour a spoon of olive oil for serving.
- use as butter on a fresh home made baked loaf with orange marmalade.
- as a spread with miso or "sesamiso": For two sandwiches mix ½ Cup tahini with ½ Cup red or brown (preferred)miso.
- See also the Hummus recipe from a previous Happyzine post. (http://happyzine.co.nz/2010/08/29/an-excerpt-from-the-wholefoods-handbook-chickpeas/)
Tahini also goes really well with aubergine. Try this combination: fry an aubergine with onion and garlic. Mix, add 2 spoons of tahini, lemon juice, olive oil, cumin and a little water.
I used to impress my guests, serving this on crackers or fresh bread for aperitif, calling it "caviar d'aubergines". You may want to try the more elaborate version of this recipe, Baba Ganoush, which I have found on the website: http://www.davidlebovitz.com/2008/07/baba-ganosh/  David Lebovitz, living the sweet life in Paris.
Baba Ganoush, a very popular middle-east dish.
Eight servings
3 medium-sized eggplants
1/2 cup (130g) tahini (roasted sesame paste)
1 1/4 teaspoons coarse salt
3 tablespoons freshly-squeezed lemon juice
3 cloves garlic, peeled and smashed
1/8 teaspoon chile powder
1 tablespoon olive oil
a half bunch picked flat-leaf parsley or cilantro leaves
1. Preheat the oven to 375F (190C).
2. Prick each eggplant a few times, then char the outside of the eggplants by placing them directly on the flame of a gas burner and as the skin chars, turn them until the eggplants are uniformly-charred on the outside. (If you don't have a gas stove, you can char them under the broiler. If not, skip to the next step.)
3. Place the eggplants on a baking sheet and roast in the oven for 20 to 30 minutes, until they're completely soft; you should be able to easily poke a paring knife into them and meet no resistance.
4. Remove from oven and let cool.
5. Split the eggplant and scrape out the pulp. Puree the pulp in a blender or food processor with the other ingredients until smooth.
6. Taste, and season with additional salt and lemon juice, if necessary. Chill for a few hours before serving. Serve with crackers, sliced baguette, or toasted pita chips.
Storage: Baba Ganoush can be made and refrigerated for up to five days prior to serving.
AS A SOUP:
- How about this Tahini/broccoli soup –found on http://www.cottoecrudo.com, cotto e crudo Green and Cruelty free Italian website-?
Ingredients
400 g broccoli, cleaned, divided into florets and steamed
200 ml water (the broccoli cooking water)
100 ml oat milk, unflavoured and unsweetened
2 tablespoons tahini
2 tablespoons extra virgin olive oil (and some more for serving)
whole sea salt, just enough to taste
chili powder, to taste
a handful of white sesame seeds
Makes 2-4 servings.
Directions
Place the steamed broccoli, water, oat milk, tahin, olive oil and salt in the bowl of a food processor and blend until very smooth. Heat the soup if necessary, divide it into individual serving bowls, sprinkle some chili powder and olive oil over it and garnish with the sesame seeds.
And if I can not get rid of my full bucket before the holidays, I'll open a Beauty Saloon!
For a clean and smooth skin, use Tahini in a beauty mask:
Mix one cup of tahini with a cup of raw whipped honey (honey + royal jelly + pollen grains) and a teaspoon of organic powder.
Mix tahini and honey first then add cocoa to make a paste and add up until the required consistency. Apply the mask for 15 min then wash.
When I have looked at myself in the mirror recently, I was able to easily forget the double chin that has started to develop in my upper neck and focus on the aspect of my skin. After three months of intensive consumption of the sesame butter, it has become more radiant and looks healthier… Friends and people at work have commented that I look younger… Never mind the extra kilos really!
A pot of Tahini anyone!?
GD Star Rating
loading...
GD Star Rating
loading...
Tags: tahini