Home » Uncategorized
365 Days of Fun and Chillaxation – Blog 233 – Keeping the Focus Through the Gorgeous Chaos of Family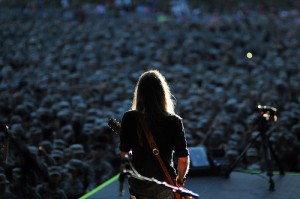 Me and my ladies are practicing hard for our revival gig at the Saturday market.  Ok, I do make this statement with some humour as we'll be playing through a small PA to an even smaller crowd of people as they walk past us at ten in the morning.  And one of my girls double booked, so there are only two of us.  But it's a gig all the same.  And we're even getting paid, like .20c for it.  So we've got to take it seriously.  Plus we're both leos, so we've got to save face.
So it was today that I found myself working my guts out at band practice.  It was chaotic.  Gorgeously chaotic. And hot.  And entertaining.
It seemed that from the moment Anna (my sexy bass player friend) turned up, a whole swath of other people turned up too.  She arrived with her three year old and her  teenage son.  Then almost immediately her other son appeared at the front gate with his friend and he needed something.  They milled about expectantly while we played a warm up song, occasionally making requests of Anna from the front fence.  She some how managed to answer them whilst holding a good bass rhythm.   We began to play and immediately my flatmate arrived home with a carload of friends, who quickly left, but still, for a moment there there were people everywhere …  I've had less people at a gig.
So it was that I found myself practicing merrily with a toddler driving cars around my feet, with Anna's son making requests of her from the fence as she played, and my flatmate haphazardly joining in on his drum (he was just learning).  Just the smallest mistake throws me, so today was an opportunity to practice my amazing powers of focus and follow-through.  We soon learnt that we could play and talk to children at the same time.  I think this all stacks up to good skills for the stage – as when you're playing live all manner of crazy things can happen that you just have to play through.
I must announce that today I experienced some seriously amazing moments with my voice.  Yes, she's coming back.  I've been learning how to play guitar and sing at the same time.  Previously I had a guitarist.  I'm working on holding a simple, yet strong rhythm as I play.  I'm trying to get so good at it that I can devote most of my energy to my vocals – which are 'my thing'.  I feel so very, very excited about making music again.
Today's rating: 10/10
365 Days of Fun and Chillaxation (as I raise my gorgeous son and grow my good news website to a subscription base of 100,000 people).  The Low Down on this Blog.
Check out yesterday's blog.
Check out my NEW ebook 'Ten Ways to Have Fun and Chillax As You Live Your Green Dreams' - how to mix positive thinking with going green to achieve fantastic results (for yourself and the planet).  Here's the video story of this life-changing, planet loving ebook.
GD Star Rating
loading...
GD Star Rating
loading...
Tags: Music