Home » Uncategorized
365 Days of Fun and Chillaxation – Blog 237 – Gett'n Back on the Musical Saddle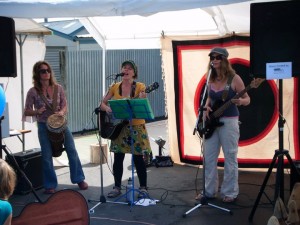 Yes indeed today Mohua Sun played at the Takaka Market.  To the left you'll see Fi, Charlotte and Anna play'n their hearts out.  Now that I'm relaxing at home, I realise that I was quite shy in the beginning!  It had been four years since I'd performed and I'd become quite comfy in my Mama/website running mode.  It all seemed a bit surreal at times and I remember thinking 'Ahhh!  I'm playing music out load in front of all those people and drawing attention to myself!'.  Even though we weren't playing to an actual sit-down audience, I still had to face that part of me that would rather fade into the background, (or perhaps even eat mud) than get all loud and feisty in public.  But the cool thing is that every time I felt myself moving into fear, I would relax.  I would just let my body … relax.  Slump.  Let go.  And come back into the moment – into the music.  I would feel Fi and Anna and their music on each side of me, notice the people milling about the market, find my lyrics and continue to play my music.
It's hard to explain music using words.  It's easier to share it with your other senses.  But sweet music we made today.  Our music.  For what it was  worth.  I loved the experience of returning to the 'stage'.  I loved the challenge of playing my music all on my own without a lead guitarist (I unknowingly strummed 'till my fingers bled, it was quite a workout).  I dropped a few notes along the way, but the cool thing for me is that this time around I didn't mind, I just kicked back in and kept going as if nothing had happened.  Now that's show business at it's best – going with the flow.  Because above all – I think it's the feel of the music that matters the most – we're talking about connecting with people's hearts here.
And so we sent our very small set of rock'n original green orientated tunes out to anyone who would listen (twice) while they did their Christmas shopping, or sold their wares.  We were also competing with the Takaka Santa Parade, including some pretty groovy bag-pipes which I myself quite enjoyed.  We hung in there though, and I do declare it was well worth it.  We inspired one wild dancer, several hoots and an assortment of jiggling and foot tapping amongst shoppers.
One thing that repeatedly occurred to me through today's performance was that I am one lucky girl.  Waves of gratitude kept welling up in my heart.  It felt so good to be back.
Today's rating: 10/10
365 Days of Fun and Chillaxation (as I raise my gorgeous son and grow my good news website to a subscription base of 100,000 people).  The Low Down on this Blog.
Check out yesterday's blog.
Check out my NEW ebook 'Ten Ways to Have Fun and Chillax As You Live Your Green Dreams' - how to mix positive thinking with going green to achieve fantastic results (for yourself and the planet).  Here's the video story of this life-changing, planet loving ebook.
GD Star Rating
loading...
GD Star Rating
loading...
365 Days of Fun and Chillaxation – Blog 237 – Gett'n Back on the Musical Saddle

,
Tags: Music