Home » Community
The 100 Mile People Harvest! Week 4: A Smorgasbord of Coromandel Hotspots Guaranteed to Inspire! Part 1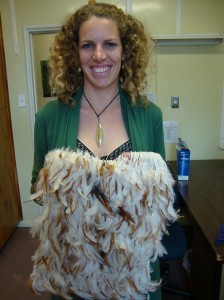 An inspiring four week harvest of visionary people and projects achieving the seemingly impossible within 100 miles of my Coromandel (New Zealand) home.
The Coromandel area is so overflowing with inspiring people and projects doing amazing things, that I simply can't limit myself to writing about one for the last week of my harvest. So I have created a smorgasbord of 10 local hotspots within an hour's drive of Coromandel Town, guaranteed to make you smile from the inside out.
1 Ethical trade and solo retreats hidden in the bush…..
The first hotspot is tucked away in the hills behind Thames and is so surprising it's the kind of thing you would expect to hear about in India or Nepal, not Thames! A friend told me about it one night and I have been captivated ever since. In the hills just behind Thames is a place where you can go on solo retreat for days, months and even years, one woman was up there for 3!  And the solo retreat huts, along with a stupa and retreat centre in progress, are all funded by donations and a Buddhist non-profit, ethical trade shop based in Thames, the Lotus Realm.
After weeks of curiosity I finally made time to go check it all out. I managed to rope in a couple of f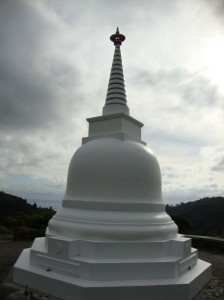 riends who had just completed a 20 km running race and their legs were feeling it as we wandered up a steep hill in search of the stupa and huts. But as soon as we caught our first glimpse of the stupa we knew every step had been worth it. Instantly our giggling and chatter stopped and we all went quiet, allowing the wind to blow our cobwebs through us as we peacefully dropped into ourselves, resting in what we found.
It's really important to have places like this to come to take a break from the noise and busy distractions of the world and what is really cool about this particular space is how it came into being.
The stupa, huts, a communal house and new retreat centre on the 240 acres of pristine native bush we visited, known as Sudarshanaloka (Land of beautiful vision) are initiatives of the Sudarshanaloka Trust founded in 1993 and funded through community fundraising events like a recent Ukulele Fun day, many donations and the sale of environmentally sustainable products sourced by ethical trade, (aiming to go a step beyond fair trade and give something back to the communities where goods are sourced) at The Lotus Realm.
So every time you make a donation, support a community event or visit the shop and online store you are supporting communities around the world while helping to create a space for peace and reflection in our own land, what an awesome example of a community lead initiative and ethical business in action!
2. Transition Town Thames – from gold to doves
The second hotspot is right in Thames itself. In this town which was founded on lust for gold and timber, a conscious group of locals have finally come full circle and are implementing projects that are honouring the environment and bringing life back to its self sufficient roots.
Since 2006 Thames has been a part of a national and global movement called Transition Towns, designed to make communities more resilient to the global challenges we face today with interconnected economies, major climate shifts, peak oil looming and communities in disconnect.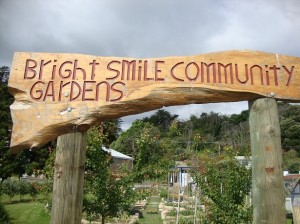 The Thames members have been supporting existing positive projects like the local organic co-op, an organic community garden and a thriving weekly market and created links between them to create space for even more great things. Regular inspiring movie sessions and a planned community building are just a couple of things that have opened up.
Of all the positive changes that have occurred in Thames though, the Bright Smile community garden has to be my favourite. It's built on an old mining site with raised adobe beds laid out in a geometrical pattern reminiscent of European palace courtyards. It's gorgeous. Along with veges and fruit trees, there is an onsite banana nursery with pineapple, guava, mountain papaya and a flock of doves weaving through it, lovingly looked after by neighbour Clinton and a group of green fingered locals.
It's awesome to see this community making links within itself to build up resilience and solid community support, as are 300 other Transition Towns worldwide. To check out more or to learn how to transform your own town, have a look at: www.transitiontownthames.ning.com
and www.transitiontowns.org.nz.
3. The government funded initiative that's spreading the art of korowai (feather cloak) weaving and saving lives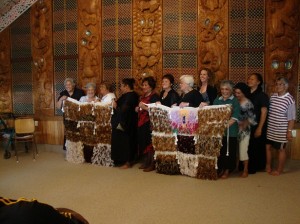 Meanwhile nearby in the Waikato, a group of women are weaving magic.
In Aotearoa, Māori women are 1.5 to 2 times more likely to get breast and cervical cancer than tauiwi (non-Māori) women and yet are far less likely to get the very checks which detect these diseases. Maata McManus, a breast cancer survivor and Breast Screening Health Promoter at Te Puna Oranga in Waikato Hospital and her team, were well aware of this dangerous irony so in 2009 they pioneered an ingenious solution.
Utilising Maata's passion and skills as an experienced traditional korowai weaver and teacher, they began traveling to small towns in Waikato, offering free korowai wānanga in exchange for a free screen at a mobile clinic which is also part of the project.
At the first wānanga in Waharoa a phenomenal 94 Māori women, compared to only 6 the year before, were screened and a significant number of cancers detected that would have otherwise gone unchecked. The next series of clinics and workshops were held in Te Kuiti, and then Thames at my work Te Korowai Hauora o Hauraki where I was lucky enough to be involved.
Over 3 months I spent two weekends with Mataa, 20 local Māori wahine, thousands of feathers, endless cups of tea and hours of jokes, singing and laughter.
After hours of being immersed in the meditative rhythm of weaving, our group completed 18 mini korowai with 600 feathers each which were sewn together to form 2 full sized korowai. In a very moving ceremony, these were gifted to my work and the local iwi at the Matai Whetu Marae. The more experienced weavers worked on full whānau korowai, which use 6000 feathers and reach to the ground taking months and even years to complete. Regardless of the size, every korowai is a work of aroha and devotion, revealing the whakapapa and personality of the weaver and what is important to them.
As often the only Pākehā, it was a real privilege to be part of this initiative, to be able to step into this world and experience the beautiful communal spirit of all the wahine and the tikanga behind everything we did. After our last night together, I went to sleep with a huge satisfied smile on my face feeling very blessed, with the sound of all the women's voices and laughter resonating through me and lullabying me all through the night.
4. TRACKS, Celebrating the journey from boyhood to manhood
While Maata and her team are sharing the sacred art of korowai, a group based from Thames are bringing back the sacredness into the vulnerable transition from boyhood to manhood with very powerful results.
Every year the TRACK's Trust hold camps in the bush for teenage boys aged around 15 years and older, to consciously honour this crucial change in their lives through specific rites of passage. Over a 5 day camp 10 new boys are guided through the process of stepping out of their childhoods and walking into the new responsibilities and freedoms that come with being a young man, by a group of TRACK's facilitators and mentors representing all ages from 60's to late teens and any father's or close male relatives or friends who wish to be involved.
The rest of their families and communities are there to send them off and welcome them back and are fundamental in supporting the changes they experience during those very special 5 days.
The TRACK's Trust was set up in 2002 with the aim of creating "Strong, healthy men and families through community led rites of passage for boys", in Golden Bay along with a sister program TIDE's for teenage girls.
After Eric Zwaan, a Kauaeranga Valley local, attended TRACK's with his son in Takaka, he got completely inspired to set up TRACK's in this area. He has been working with a group of others since May 2009 to do just that and together they have found 3 acres of land up the stunning Kauaeranga Valley to lease, held several Good Men Make Track's weekends to prepare facilitators and gained great support from the community. Their first rites of passage camp is planned for September 2011.
I was so touched when I heard about their plans and dedication. The transition from teens to adulthood is such an important one and one teens often do without much respect and positive guidance from the rest of society. Imagine what our communities would be like if all young people had access to projects like TRACK's and TIDE's. It could be a whole new world and one I would sincerely love to experience.

5. The dream dome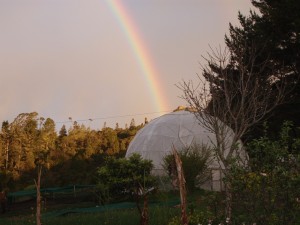 Heading up the Coast away from Thames towards Coromandel, just before Manaia you will encounter the fifth hotspot and it's something quite unexpected. First your attention will be drawn to a pair of Celtic looking stone gates, then a large caterpillar like tunnel house indicating someone is up to some serious vege growing, and finally you will see it, a giant prism like dome, 7 metres high and wide boldly peering out over the hedge and you will wonder what on earth is happening here!
This is the home of organic vege and fruit grower extraordinaire's Micha and Sabina and one of their 3 gorgeous daughters Majella. Micha and Sabina grow a lot of the food gratefully consumed by hundreds at Mana Retreat Centre every year. They are also exquisite bread makers and supply my household with 4 loaves every week of the best gluten free organic homemade bread I have ever eaten.
They have been growing organic food for years and already have abundant crops of every food imaginable including papaya, pineapple and banana's. But Micha had a dream to grow his own mango's, right here in Coromandel, so he invented a supersonic green house dome big enough to support a mango tree so his dream could come true.
Luckily Micha and Sabina's oldest daughters are the very successful acrobatic performance artists the 'Twisty Twinz' and just before they headed off to perform the sell out show 'The Butler' with their company in London in June, they climbed, twisted and dangled around the 7 metre high structure and helped put it all together.
Now Micha's initial dream has grown into something bigger and even more beautiful. He has created one of the country's first aquaponics system, a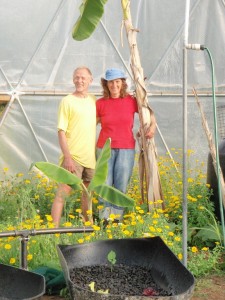 harmonious organic fertiliser system utilising nitrate rich waste from a pond of comet fish in the centre of the dome to nourish the surrounding plants.
Meanwhile in the garden around the dome equally special things are happening. There is a peaceful, healing presence that permeates the whole space and its drawing people in who need healing and grounding, allowing Sabina to fulfill her own dream of growing exquisite organic food while working with people.
Micha and Sabina are two very inspiring people who have found ways to live their dreams, as Sabina says "it's such an amazing experience when you do something that is right. It just flows and it's a healing experience for me and for all those who come".
Check out Part 2 of the smorgasbord next week for 5 more awe inspiring hotspots, from divine natural hot springs hidden in the suburbs of Whitianga to NZ's best tourist voted theme park, yummy mud houses and baby kiwi hatching in the hills behind Coromandel Town. There is so much goodness just waiting to be discovered!
GD Star Rating
loading...
GD Star Rating
loading...
The 100 Mile People Harvest! Week 4: A Smorgasbord of Coromandel Hotspots Guaranteed to Inspire! Part 1

,