Home » Events
Award Winning Line Up For This Year's Auckland International Buskers Festival
Submitted by Charlotte on January 15, 2011 – 9:00 pm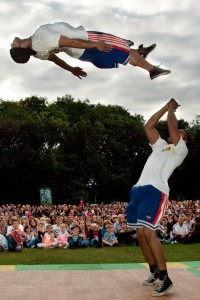 The Auckland International Buskers Festival is one event that really needs no introduction! Expect to be stopped in your tracks when walking the streets of central Auckland this Anniversary Weekend, because you will more than likely come across an array of performers entertaining the crowds in the eleventh annual International Buskers Festival in Auckland's BIG little city.
The Festival features the USA Break Dancers, winners of the 2009 Street Performers World Championships and feature acts at the US Open and NFL Super Bowl; Space Cowboy, current holder of four Guinness World Records and Duke Dreamer from Australia's Got Talent.
For the 11th year running, the Auckland International Buskers Festival will immerse the BIG little city in an awe-inspiring range of entertainment over Auckland Anniversary Weekend from the 28th to 31st of January 2011 – acrobats, break dancers, jugglers, tight rope walkers, mime, comedy, sword swallowing and more.
The Festival is comprised of 6 sites spread throughout Auckland City the BIG little City. Sites include Viaduct Harbour, Vulcan Lane, Downtown/Britomart, and Princes Wharf.
The night shows have been part of the Festival since 2003 and are a great way to socialise with friends whilst enjoying good outdoor dining in a fun and comical environment.
"This year's Festival features a top international line up that will appeal to all senses!" says Pam Glaser, the Festival's Director.
Acts for the 2011 Festival include:
o       Sharon Mahoney (Canada)
o       Benny B (Australia)
o       The Space Cowboy (Australia)
o       USA Break Dancers (USA)
o       Hemlock (Australia)
o       Mr Fungus (New Zealand)
o       Franktastico (Italy/UK)
o       Damien Ryan (Australia)
o       Duke Dreamer (Australia)
So, zip on your best clapping hands, firm up your stamping boots and dive down the back of the couch for a handful of loose change and we'll see you at the live street performances in Auckland City over Anniversary Weekend.
GD Star Rating
loading...
GD Star Rating
loading...
Tags: Auckland, busking, Tamaki Makau Rau