Home » Events
Rainbow style Healing & Learning Event … Golden Bay
Submitted by Charlotte on January 19, 2011 – 4:33 pm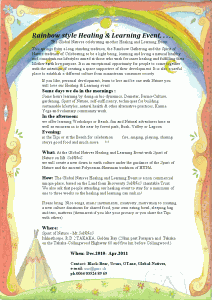 This springs from a long standing tradition, the Rainbow Gathering and the Spirit of Nature tradition of Celebrating to be a light being, learning and living a natural healthy and conscientious lifestyles aimed at those who wish for inner healing and fulfilling their Mother earth live purpose. It is an exceptional opportunity for people to come together
with the intention of creating a space supportive of their development. It is also a useful place to establish a different culture from mainstream consumer society.
If you like personal development and learning to live and be one with Nature you will love our Healing & Learning event.
Some days we do in the mornings :
Some hours learning by doing in bio dynamics, Demeter, Perma-Culture, gardening, Spirit of Nature, self-sufficiency, techniques for building sustainable lifestyles, natural health & other alternative practices, Karma Yoga and voluntary community work.
In the afternoon:
we offer learning Workshops or Beach, fun and Natural adventures time as well as excursen in to the near by forest park, Bush, Valley or Lagoon
Evening:

in the Tipi or at the Beach for celebration…….. fire, singing, playing, sharing storys good food and much more……!!!
What: At the Global Natives Healing and Learning Event with Spirit of Nature on Mt. SoNNoS we will create a new down to earth culture under the guidance of the Spirit of Nature and the ancient Polynesian-Hawaiian tradition of HUNA.
How: The Global Natives Healing and Learning Event is a non commercial unique place, based on the Land from Bioversity SoNNoS charitable Trust.
We also ask that people attending our healing event to stay for a minimum of one to three weeks so the healing and learning can sink in!
Please bring: Nice songs, music instruments, creativety, motivation to creating a new culture, donations for shared food, your own eating bowl, sleeping bag and tent, mattress (thermarest if you like your privacy or you share the Tipi with others) .
Where:

Spirit of Nature – Mt SoNNoS
Milnethorpe, R.D.2 TAKAKA, Golden Bay (20km past Parapara and Takaka on the Takaka-Collingwood Highway 60 and five km before Collingwood.)
The Global Natives celebrating another Healing and Learning Event
When: Dec.2010- Apr.2011
Contact: Black-Bear, Ursus, OTane, Global-Natives,
e-mail: uur@gmc.ch
ph.0064 03524 89 69
webseit:
www.nuovo-walser.org (…..unser Gemeinschafts Projekt in Norditalien mit KulturAlp Aspekt….)
www.global-natives.org (…..eine initiative für Natur und Zukunftskultur und BIOVERSITÄT…..)
www.spiritofnature.ch (…….ein Europäisch – Neuseeländisches Projekt…..)
GD Star Rating
loading...
GD Star Rating
loading...
Tags: green, permac, sustainable