Home » Uncategorized
Saving the Planet, One Present at a Time…
Submitted by on February 18, 2011 – 8:55 pm
7 Comments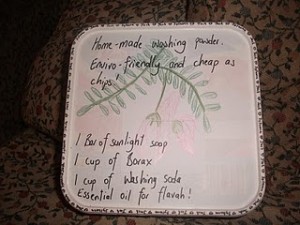 I've always said 'Nothing says love like a clean toilet!' Failing that, I'd also appreciate a pile of clean washing. I'm not even going to pretend that washing is my hobby, but making stuff is way up on the list! So when friends came to visit recently and brought their gorgeous new baby, I wanted to show them the love!
They're enviro-concious folk and so I thought I'd whip up some of my home-made laundry powder. As far as gifts go, I believe you need to know your audience, or they need to know you! And while I knew these guys would love the idea of home-made washing powder, I cringe at the idea of the kids growing animosity towards the environment with every homemade washing powder xmas gift.
I've been making my own home-made washing powder for quite a while now. I used to do the cooked up version, stirring my bubbling cauldron type thing. But have since abandoned all that palavah for the 'lazy as sin, but really effective' version. Initially the decision to make my own laundry powder was environmentally driven, but it has since turned into a self-sufficiency crusade! I'm creating my own product that I would usually only ever buy in the big shop! It's liberating – I'm practically living off the grid!!! And just quietly – it's so easy, I almost feel lazy making it! Buying it would be harder.
Recipe:
1 bar of sunlight soap (Grated) – when I was finding the recipe everyone talked of Castille soap and how wonderful it smells. Well, I've yet to find the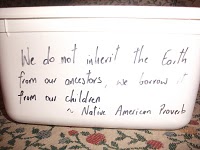 stuff. I use Sunlight because it's oil is derived from plants instead of high energy consuming animal fat, and easy to get hold of.
1 cup of Borax – honestly, I had heard of this stuff, but not in relation to anything significant after 1965! Our Grandma's would have never been without it! It can be mixed with water and used as a spray on stain remover, but be warned, it is toxic. However, it's effect on the environment is less harmful than commercial laundry cleaners. I found mine on Trade-me.
1 cup of Washing Soda – I got mine from Bin Inn and the price was definately right! I love Bin Inn as I can take my own containers in and use them instead of plastic bags – this has nothing to do with my laziness at the home end and reluctance to unpack groceries. Washing soda has a pH of 11, which means it will soften hard water – the culprit for the greying of your whites!
Essential oils – completely unneccesary but one of those things that adds to the whole alchemist feel of the procedure.
Mix it all up – Easy Peasy. My Mum did a wee comparison. She said when she used a commercial laundry powder, it didn't remove cow poo, but the homemade stuff did.
I then found some inspirational environmental quotes, scrawled them all over an ice-cream container, made a mental note to practise tidy hand-writing, drew a picture on the lid, added the recipe and it was good to go.
When it comes to presents, I love giving hand-made. It's my way of showing someone they're important enough to give time to. And if it's practical, what can I say, I'm all about the utilitarianism!
Note: Making your own laundry powder does not alleviate the tedium of laundry, but it does give way to fantasies of environmental accomplishments!
GD Star Rating
loading...
GD Star Rating
loading...
Saving the Planet, One Present at a Time...

,
Tags: green, green design, washing powder