Home » Uncategorized
365 Days of Fun and Chillaxation – 302 – Gratitude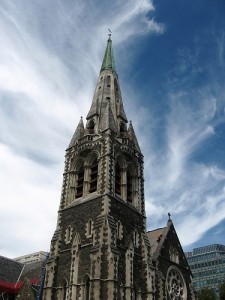 Today I've been focused upon the people of Christchurch during their day after the second big quake in six months.  They're only five hours away from us, and I used to live there, so I'm quite tuned into that city.  Yesterday I was shocked to hear of their second quake but, telling myself, at least I wasn't actually in it, I pushed on with life.  Today I gave up trying to ignore my grief and let the tears come when they needed too.
Tear's are our bodies way of processing stress, they're healthy and good and so, so natural.  Millions of tears – of sadness, relief, exhaustion, gratitude, you name it – will be being shed right now around New Zealand and amongst Kiwis and Kiwi lovers world-wide.
Today survivors are still being pulled from buildings and this will continue for days or even weeks.
So all I can come back to now is gratitude.  I'm sure I'm not alone in looking around my peaceful, calm, friendly neighbourhood and thinking 'I am so lucky'.  And I'm sure I'm not the only one who hugged her child extra lovingly and extra tight today, gave him a kiss and told him I loved him very much.
Human life is a privilege.  I'm well aware of my good fortune.  I get to sleep safe and secure tonight.  I get to touch and feel my loved ones, I get to breath easy.  I get to eat chocolate and taste the first grapes of the season, I'm blessed.  You never know when life's going to change.  I like to sit back occasionally and take stock of the good stuff – some days I give thanks for my limbs, and the fact that I have all my fingers.  Everyday I give thanks for my my amazing and precious son.  I've experienced love and sudden loss and I think that once you've been there, your perspective changes.  It's not so easy to take the good stuff for granted.
Right now the people of Christchurch are vulnerable as hell and boy oh boy do they need us.  And the good news is that I can see people, globally, responding with huge love to that call.  Facebook and twitter are alive with people helping out and sharing news and messages.  Numbers of places people can donate to are being shared.  Homes and places to retreat to are being organised all over the country.  Food and  and delivery is being organised.
The good will keep happening.  Keep the faith in the good.
Today's rating: 7/10
365 Days of Fun and Chillaxation (as I raise my gorgeous son and grow my good news website to a subscription base of 100,000 people).  The Low Down on this Blog.
Check out my NEW ebook 'Ten Ways to Have Fun and Chillax As You Live Your Green Dreams' - how to mix positive thinking with going green to achieve fantastic results (for yourself and the planet).  Here's the video story of this life-changing, planet loving ebook.  NEW! 'Like' the facebook page '30 Days of Fun (and Chillaxed) Green Change – April 2011′ and reach your dream, green goal once and for all this April.
GD Star Rating
loading...
GD Star Rating
loading...
365 Days of Fun and Chillaxation – 302 - Gratitude

,
Tags: christchurch