Home » Uncategorized
365 Days of Fun and Chillaxation – 327 – Recipe for My New Favorite Recipe: Double Choc, Raspberry Brownies (gluten free, dairy free).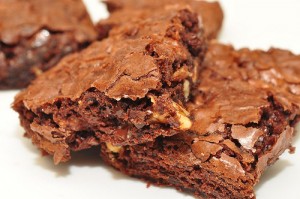 Yes indeed, today was another HANDS market day. They have HANDS markets four times per year here in Golden Bay and this time I decided to have my own stall, rather than simply consume.
I've fallen in love with this recipe, so I whipped some up last night (and only sampled a little of the mixture).  They were rich, moist, and warmly recieved at the market.  In fact they sold out.
Here's the recipe:
Lush Double Chocolate, Raspberry Brownies (gluten free, dairy free)
1 Cup of a light oil (eg grapeseed, or something with little taste)
1/2 Cup of cocoa
1 Cup sugar
2 eggs
1/2 Cup coconut
1/2 Cup brown rice flour
1/2 teaspoon raising agent such as baking powder
1/4 Cup raspberry jam or actual raspberries
What to do:
Beat the oil, cocoa, sugar and eggs.  Then add the coconut, flour, and raising agent.  Mix thoroughly.  Then, at the very last moment lightly mix in the raspberry jam or raspberries.  Pour into oiled dish and bake at 180 degrees Celsius for around twenty minutes to thirty five minutes.  Cut when cold.  Share.
Optional: I used all fair trade or organic cooking ingredients (apart from the oil, I used Rice Bran).  This isn't at all necessary, but I felt good about it and told people who bought them at the market in a proud sort of manner.
Warning: mixture invites fingers and spoons which may reduce amount of brownies produced

365 Days of Fun and Chillaxation (as I raise my gorgeous son and grow my good news website to a subscription base of 100,000 people).  The Low Down on this Blog.
Check out my NEW ebook 'Ten Ways to Have Fun and Chillax As You Live Your Green Dreams' - how to mix positive thinking with going green to achieve fantastic results (for yourself and the planet).  Now you can 'Like' the facebook page '30 Days of Fun (and Chillaxed) Green Change – April 2011′ and reach your Green Dream along side other green-dreamers, this April 2011.
GD Star Rating
loading...
GD Star Rating
loading...