Home » Uncategorized
365 Days of Fun and Chillaxation – 328 – Neighbours Day Next Weekend!
Submitted by Charlotte on March 21, 2011 – 5:00 pm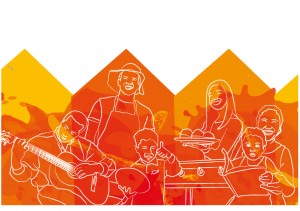 You lean over the fence and summon your neighbour.  Keeping your face serious, you wait 'til they're right in front of you, and then you whisk out that banana cake you baked for them from behind your back with a big grin! Later you're actually asked around to help eat it, which was part of your master plan all along …
Ahhh, New Zealand Neighbours Day.  Tis time to get creative about ways to bond with your neighbours.
I myself am keen to partake.  I'm always up for a yarn with my neighbours … as are my son and our dog actually … it runs in the family.  But this upcoming Neighbours Day is just the excuse we (yes, that includes you, no matter how shy you are) need to get a little closer to those we live near.
So I'm thinking maybe a BBQ … at Paul's house across the road.  He's always up for a social occasion, I'm hoping he'll love the idea!  I think it's a healthy, secure and grand thing to know our neighbours.  You never know when you'll need one, or they'll need you.  My elder lady (as I'm now calling her) next door often says profound and wise things that I go away and ponder.  Might as well get things started and make a date with yours … Let me know how it goes!
365 Days of Fun and Chillaxation (as I raise my gorgeous son and grow my good news website to a subscription base of 100,000 people).  The Low Down on this Blog.
Check out my NEW ebook 'Ten Ways to Have Fun and Chillax As You Live Your Green Dreams' - how to mix positive thinking with going green to achieve fantastic results (for yourself and the planet).  Now you can 'Like' the facebook page '30 Days of Fun (and Chillaxed) Green Change – April 2011′ and reach your Green Dream along side other green-dreamers, this April 2011.
GD Star Rating
loading...
GD Star Rating
loading...
Tags: neighbours