Home » Business
Influential Fashion Designer and Publisher Annah Stretton Teams Up With Happyzine to Find Ten Free Range Restaurants in New Zealand
Submitted by Charlotte on April 6, 2011 – 7:56 am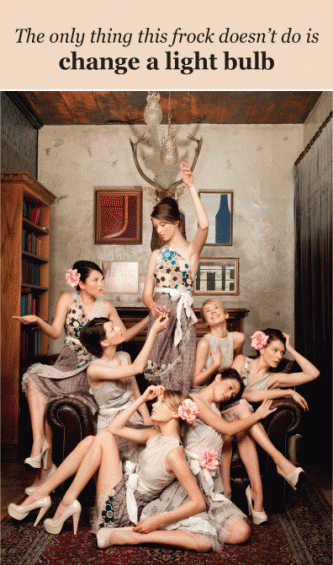 Influential fashion designer and publisher, Annah Stretton, has taken on the goal to convince ten Kiwi food businesses to only stock and service free range meat before the end of April.
Stretton, like most New Zealanders, was initially ill-informed of some of the ways we as a society are farming animals.  NZ Possum fur is often a feature in her collections and meat will always be part of her diet. But as a result of the ongoing media attention in recent years, and after reading up on the subject, she has become increasingly vocal about the way we farm all animals, in particular our pigs and chickens.
Annah now has a vision that one day all New Zealanders will eat only animals that have been farmed with integrity.  "While many have made the choice to eat only free-range eggs, surely it's a logical progression to only eat free range chickens?" she asks.
"The intensive farming of chickens and pigs, in particular, is inhumane, unnecessary and cruel. And I choose to make a difference in many ways – we only serve free-range chicken, eggs, pork and bacon in Café Frock, for instance, and I encourage anyone who can afford financially to make the change to simply not patronise cafes and restaurants that don't use meat from responsibly farmed animals.
"Just the other night I was out at a restaurant and the meat on the menu was not free range. While my dinner-partner initially had no problem with the fare on offer, I soon educated him on the importance of eating free range. Because of that he has made a commitment only to purchase and order free range meat in the future.  Needless to say we moved to another establishment to complete our dining experience."
Stretton also gives her 20-year-old university student son, Edward, an extra $20 a week towards his food bills to follow in her animal friendly footsteps, as he has now made a choice to only eat free-range. A difficult choice for an impoverished student.
While Stretton appreciates that some consumers are not in the position where they can afford to buy free range meat yet, she believes there is a big demographic that can and should, and possibly would, if only more people get onboard with this call to action and Annah intends to champion this.
"I'm realistic that mankind will possibly always eat meat, but explain to me how people can watch documentaries like the Mike King pork expose and not be compelled to change their eating habits? How can you go to a restaurant or a supermarket and order pork after watching those beautiful animals being farmed for human consumption in those shocking conditions?
"Imagine if the fast food giants like McDonalds and KFC made a choice to only use free range pork and chicken, surely animal welfare is important to them and what a significant effect that would have on reducing the price of free range meat, and ending the suffering of these farmed animals forever!
As part of Happyzine editor, Charlotte Squire's '30 Days of Fun (and Chillaxed) Green Goal Achievement this April' project on facebook, Stretton announced her goal of convincing ten Kiwi food businesses to only stock and serve free range meat. With each business that takes up the challenge Squire will list and promote that business through her good news website.
You can check out and 'like' the facebook page '30 Days of Fun (and Chillaxed) Green Goal Achievement this April' here.
For further comment, contact Annah Stretton: 07 8894053
GD Star Rating
loading...
GD Star Rating
loading...
Tags: free range