Home » Blog
365 Days of Fun and Chillaxation – 349 – NZ Green Party Using My Ebook As a Fundraiser
Submitted by Charlotte on April 12, 2011 – 2:36 pm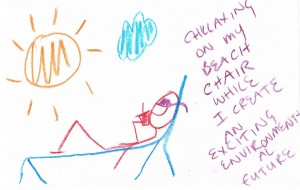 Yay!!!!!!!!!!!!!!!!!!!!!!!!!!!!
365 Days of Fun and Chillaxation (as I raise my gorgeous son and grow my good news website to a subscription base of 100,000 people).  The Low Down on this Blog.
Check out my NEW ebook 'Ten Ways to Have Fun and Chillax As You Live Your Green Dreams' – how to mix positive thinking with going green to achieve fantastic results (for yourself and the planet).  Now you can 'Like' the facebook page '30 Days of Fun (and Chillaxed) Green Change – April 2011′ and reach your Green Dream along side other green-dreamers, this April 2011.
GD Star Rating
loading...
GD Star Rating
loading...
365 Days of Fun and Chillaxation – 349 - NZ Green Party Using My Ebook As a Fundraiser

,